In the past decade, gaming has become one of the most popular forms of entertainment.
So, all the potential gamers out there want to pick up a controller but have no idea where to start, which console to pick, or what games to play. We've put together a guide to lead you through.
Creating the proper gaming setup is essential, and every gamer should have a few elements that play a crucial role in their gaming adventure.
Having the equipment in place that suits you can help you enjoy your gaming experience even more than your current.
Want to develop more knowledge on the above "must-haves"? Read below to get started with your gaming setup.
Gaming Consoles
The ancient battle: PC gaming vs. console gaming. It's the clash that divides gamers, so let's review each system and see which catches your eye.
Xbox Series X
The Xbox Series X is a fantastic piece of hardware with much potential to solidify itself as a tremendous next-gen console. 
The new Xbox is super-fast, effectively silent, and offers extraordinary performance levels that are only typically found in gaming desktops or laptops.
This ensures that games – old and new – look and perform far better than ever before and presents a solid foundation for Microsoft to build upon in the future.
But unlike a high-end gaming PC, which usually costs thousands of dollars, Microsoft has stuffed a substantial amount of power under the Xbox Series X's titanic frame, and it remains affordable.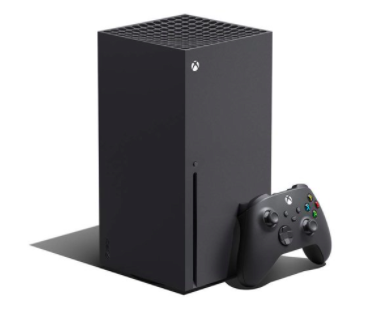 The result is a console that is not only technically awesome, with drastically decreased load times and significantly advanced visual fidelity in games, but one that is competitively priced.
Thanks to many quality-of-life features that make your gameplay experience far more pleasurable, like Quick Resume and FPS Boost, the deal is sweetened more.
The Xbox series X has 12 teraflops of graphics power and a one-terabyte SSD. Modern games consume a lot of space for storage, with the likes of Call of Duty gobbling up more than 40GB of SSD space.
Suppose you want a comprehensive library of Xbox games on your Series X. In that case, Xbox has already designed a proprietary external SSD that you can add to your console. 
You'd be excused for thinking that the Xbox Series X looks like a small-form PC because it does, at least when it's standing upright. Its megalithic design could be seen as unimpressive. But we rather like the system's clean and tidy appearance.
Fortunately, it can be stood upright or on its side to fit into an entertainment system with no problem. Staging the console upright is probably better for its cooling system, given that the Series X pulls in air through the bottom and vents it out of the top.
You can feel wafts of heat coming out the top with the system running quietly in the background. It's a real testament to the engineering Microsoft has invested into the Series X, given its powerful hardware inside its condensed form.
PlayStation 5
The PS5 arrived, and it truly felt like a generational level-up for console gaming. With its powerful graphics technology and crazily innovative DualSense controller, Sony's latest console offers a level of immersion that just wasn't feasible on previous consoles.
The PS5's lightning-fast SSD is a literal game-changer, uploading games in seconds — and in some instances, affording new ways to interact with them.
It's been discussed a lot online, but the PS5 is a truly enormous piece of tech. Sony's 10.2 x 15.4 x 4.1 inch PS5 dominates almost any gaming system released in the past decade, including the PS4 Slim and Pro.
It's also far larger than its new next-gen rival the Xbox Series X. Still, all that tech has to be housed, and with this large system comes even larger capabilities.
Given its size, you may want to measure up your shelving system so it has somewhere to live, but it's still more compact than a full PC and will fit somewhere around your TV.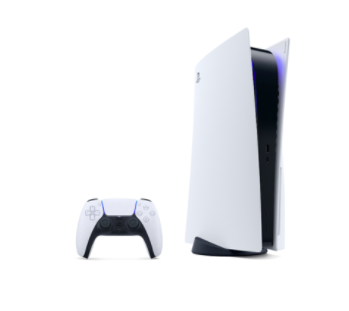 To make it easier, Sony has made the PS5 stand upright or lay on its side, with the aid of a screw-in stand that helps with stability.
This latest Playstation has such an eye-catching futuristic aesthetic it has surprisingly been up for debate; some people love it, and others hate it.
Both groups still bought it because what's inside the chassis is next-level technology and a gaming experience you've never had before.
The PS5 has a pretty standard collection of ports, complete with some welcome state-of-the-art facilities. You get 3 Hi-Speed USB ports, as well as 3 USB SuperSpeed ports.
It's good to see a console finally include Superspeed connectivity out of the box, especially linking modern storage drives and accessories.
Should you ever get serious about gaming, Sony has included an expansion slot if you need to increase the console's SSD storage.
The PS5 interface is attractive, snappy, and clean. Jumping in and out of games and navigation menus feels instantaneous; it introduces some exciting ways to get to what you're playing even faster.
The PS5 DualSense controller might be the most next-gen part of Sony's new console.
The gamepad's built-in speaker, adaptive trigger, and haptic feedback work together beautifully. Creating a level of tactile immersion, you'll not have experienced while playing a game before.
Gaming PC
If you want the most advanced gaming experience with the most outstanding visuals, you'll need a PC.
Running the latest action games at the absolute peak of their abilities will require a high processor, a high-spec graphics card, and at least 8-16GB of system memory.
Alienware's Aurora Ryzen Edition R10 is one of the most affordable of its kind. Its rounded looks are distinctly Alienware—there's barely a straight edge to be found.
If you're looking for a starter PC for a kid, we've made a complete list of the best gaming computers for kids here.
The tower could fit quite easily in a futuristic movie set with its understated illumination ring and the option to change the lighting settings inside the command center app.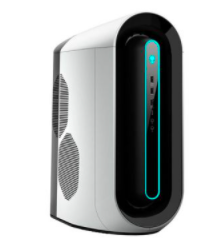 The power supply for this PC is 1000w, which is a massive boost from the previous model, supercharging your gameplay through the roof.
But all that power will make a PC unit pretty hot. That's why Alienware has the eight-core Ryzen 7 possessor, which is liquated cooled.
Beyond the lighting on the front panel, Alienware has provided 3 USB ports to charge accessories even while the tower is turned off. As well as headphones and microphone jacks.
The Aurora Ryzen Edition R10 is powerful enough for 4K gaming with the octa-core Ryzen 7 5800X processor, 16GB Radeon RX 6800 XT graphics card, 32GB of memory, 2TB hard drive, and an extra TB to run the Windows operating system.
It's a beast of a tower and will set you up for years without having to upgrade any internal components.
The Aurora Ryzen Edition R10 is an excellent example of how well AMD's newest platform performs, surpassing Alienware's own Intel-based Aurora R11 while costing far less. That's the definition of a win-win.
We've built a complete list of gaming monitors to help you decide which one to get.
Other Items To Add To Your Gaming System
Chair
Gaming chairs have grown very popular. They have flashy good looks and striking features, but they cost much more than office chairs.
So are gaming chairs worth it? Well, yes, gaming chairs support your back through long hours of sitting, sometimes from dusk till dawn. Having a comfortable chair is the most important when it comes to gaming.
At first, gaming chairs can feel less comfortable than the office chairs you may be used to. This is due to gaming chairs supporting good posture, and most people are used to slumping in their office chairs.
So, sitting with correct spinal alignment takes time to get used to. Until your body adapts, relaxing in a gaming chair may feel awkward.
So in the long term, gaming chairs provide significant benefits that come with good posture.
But more than that, gaming chairs look cool. Please take a look at the RESPAWN 110 gaming chair; its sharp design looks like it came right out of the cockpit of a rally car.
Desk
Gaming desks are often ignored pieces of furniture. Still, they're the framework upon which every excellent gaming setup is built, from being a safe place to put your PC, console, and monitor to having ample space to spread out with your gaming mouse.
There's a lot to contemplate when buying a suitable gaming desk. More importantly, it would be best if you aimed to achieve decent ergonomics.
If your desk isn't the right height, you may be putting unnecessary strain on your muscles and joints, which could make it challenging to enjoy lots of gaming.
That's where the Seven Warrior Gaming Desk comes in; its streamlined ergonomic design offers a perfect gaming posture helping you game longer and more robust. There's no need to worry about where to stage your mouse either, as the entire surface of the table is your mouse mat.
Headset
If you want to play online games with your friends, a decent gaming headset is an essential accessory.
Razer Kraken's tournament editions are an over-ear headsets with noise-canceling for an all-immersive experience. They support 7.1 surround sound, which helps you hear enemies coming from any direction and is made with cooling gel-infused cushions that prevent overheating and pressure build-up.
See our complete list of gaming headphones here if you're looking for more options.
Reliable Internet
Most game PC and console manufacturers promote a download speed at least 3 Mbps (how companies measure the amount of data moved in a second). And 0.5 Mbps to 1 Mbps of upload speed as a typically good internet speed". The three top internet contracts currently are:
| | | | |
| --- | --- | --- | --- |
| | AT&T | Spectrum | Viasat |
| Monthly cost | $35 + | $49.99 + | $39.99 |
| Connection type | Fiber | Hybrid-Fiber Coax | Satellite |
| Download speed | 0.8 Mbps – 940 Mbps | 100 Mbps – 940 Mbps | 12Mbps – 100Mbps |
Gaming Mouse
The Razer Deathadder V2 was voted the best gamer mouse of 2020; it's easy to see why. You may look at it and think it's just a standard office mouse, but it's anything but. This thing auto-calibrates and reduces cursor drift with its light beam-based actuation, which registers button presses at the speed of light.
The 8 Programmable Buttons allow for button remapping and assignment of complex macro functions. The Drag-Free Speedflex cable eliminates the need for mouse bungees, drastically decreasing weight and drag for absolute control.
If you have small hands, these mouses may be for you.
If you want to check out other gaming mice, you can look at the popular finalmouse here.
These gaming mice will be for you if you have a Mac Book Pro.
Gaming Keyboard
The Razer BlackWidow Elite is an exceptional gaming keyboard. This wired-only model appears very well-built and sturdy. Thanks to the two incline options and removable wrist rest, it has excellent ergonomics. The RGB backlighting is fantastic for darkroom gaming, and it's readily customizable inside the Razer Synapse software.
Xbox Controller
The PowerA Fusion Pro Controller is an excellent stand-in for the Xbox One Controller and is half the price.
Created for the Xbox One and PCs, PowerA's controller grants most of the Xbox One Pro controller; it has those swappable joysticks, super-helpful mappable underside buttons, and adjustable trigger sensitivity.
PlayStation Controller
Wireless PS5 Controller is an excellent replacement for the PS Controller. They were created for the PS4 / PS4Pro / PS4Slim and PC. Built-in Bluetooth connection technology to help avoid delays, make a more stable connection, and provide players with a smoother game environment.
Webcam
Once you get into gaming, you might be tempted by the idea of making some money off of it. If you plan to do this, you will need a webcam to connect with you to build a relationship.
The Logitech HD Pro Webcam has full HD video calling, a 5-foot cable, and built-in dual stereo mics with automated noise reduction. Great for any beginner in streaming.
Cable Management
With all this equipment comes many wires, and we all know how they only want to twist together like a nest of vipers as soon as you look at them. With 124pcs Cord Management Organizer Kit, organizing them is a cheap, easy way to keep everything neat and in order.
Video Games
Of course, if you buy a PC or console, you'll need some games to play on them.
PC Video Games
Steam is the online platform from game developer Valve to buy, play, create, and discuss PC games. The platform hosts thousands of games (downloadable content and user-generated features called "mods") from major developers and indie game designers alike.
PlayStation & Xbox Games
Gamestop is a brick and motor shop that runs online and deals with buying and selling Playstation and Xbox games. It's a great place to find cheaper games at the retail price.
Desk Fan
All this equipment can make a room hot; all the motors, fans, and cooling gear pumping the hot air out mean you'll need a desk fan to keep you cool.
This mini desk fan is perfect for the job; it plugs in a USB slot instead of the mains and sits neatly on your gaming table. No one wants the distraction of overheating getting in the way of a good gaming session.