Dual monitor setup is becoming more and more common every day. Professional gamers, Streamers, and content creators have been using this kind of setup for quite a long time. In recent times, amateur gamers, as well as regular pc users, are getting into it. The first thing you will need is a suitable desk for a dual monitor setup.
There are tons of dual monitor desks available in the market. Finding the right one that suits your budget, needs, and aesthetic can be tricky. So, here I will talk about 4 of the best gaming desks for 2 monitors that you can currently get your hands on.
L-shaped 3 piece corner computer desk saves space in home office, dorm room
Material: steel frame, powder coated finish, Environmental particle board
Foot rest bar allows for more comfort, Adjustable glides stabilizes / balances the desk on uneven floors
Dimension: 51" W x 19" D x 28.5" H (51" overall depth)
Patent No: US D891820S1
BIGGEST GAMING DESK - Largest Gaming Desk on the market, easily supporting three widescreen monitors.
INTEGRATED LED LIGHTING - Ambient LED Lighting around the entirety of the AUTODROMO significantly reduces eye fatigue during prolonged gaming sessions.
STABILITY - The AUTODROMO features a solid steel chassis underneath the face of the desk, comprised of a single piece of steel to prevent the wobbling you get in other gaming desks.
CABLE MANAGEMENT - The ONLY Gaming Desk with built-in cable raceways to securely hide all cables and AC adapters for a complete stealth look.
TURISMO RACING AUTODROMO is the Official Gaming Desk of the hottest eSports teams, including Team Liquid, OpTic Gaming, and Invictus.
Dimensions: 28.25" H x 51" L x 20" L, Keyboard tray: 3" H x 11.75" D x 21" L
2 side surfaces support up to 50 Ibs. each, corner top surface supports up to 20 Ibs., and keyboard tray supports up to 10 Ibs.
Desk top made with tempered safety glass
Join 2 desks to accommodate multiple monitors and create an optimal gaming space
Ships ready-to-assemble with step-by-step instructions
Things To Consider Before Getting A Desk For Dual Monitors
Before we head into the reviews, let's talk about what you should look for in a gaming desk for 2 monitors.
Size Matters
The larger your table is, the better when it comes to multi-monitor setups. Try to get the biggest table you can find. Cause what if you'd want a triple monitor setup later on?
Nobody wants to keep buying new desks every few years. So, it's better to plan and buy a large desk that will be reliable.
Cable Management
More monitors mean more cables. And the cables can get pretty crazy as you buy more and more things to hook up to your computer.
So, if you think the web of cables underneath your gaming desk would be an eyesore, get a desk that provides cable management. 
Build Quality
A well-built gaming desk is essential for gamers. The desk must withstand the weight of widescreen multi-monitor setups, which can get pretty heavy.
Also, if you are someone who quickly gets into rage mode while online gaming, I'm sure the importance of build quality needs no further explanation.
Extra Features
Finally, check out what sort of extra features the gaming desk provides. The more, the better. Some useful features would be headphone holders, cup holders, wireless charging, etc.
Best Gaming Tables For Dual Monitor Setup
Dual monitor desks can come in different sizes and shapes. Besides holding two monitors on the desktop, it is also an essential part of your indoor aesthetics. The build material should also be high quality to withstand the constant load the desk will have.
To ease things up for you, I've researched and come up with my 4 best picks for dual monitor desks. Let's take a look.
1. SHW L-Shaped Computer Gaming Desk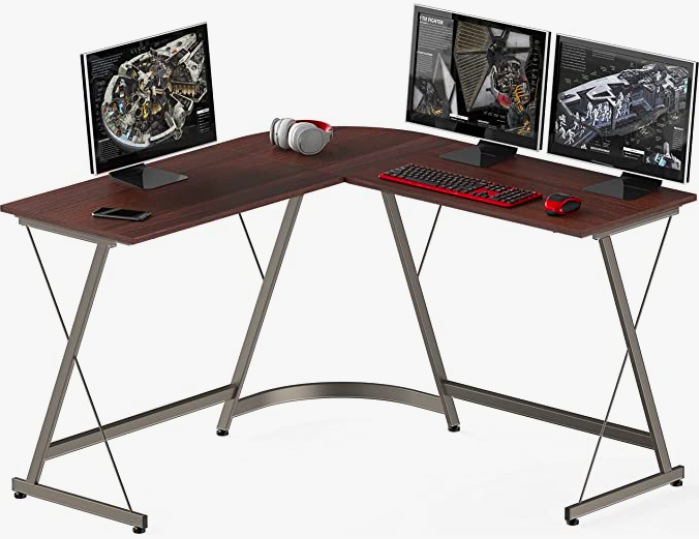 The SHW gaming desk can be the right companion for your dual monitor setup. The SHW computer desk can fit into tight spaces thanks to its L-shape.
This makes the table ideal for offices and houses with constrained floor space. Its simple and minimalistic design serves two purposes; it lets you easily put 2, 3, or even 4 monitors on the desktops while keeping a subtle appearance.
Its smooth surface ensures accurate gliding and tracking of the mouse if you are a hardcore gamer. Its metal frame and legs can be adjusted on uneven surfaces for a stable stance. The safety of your monitors is ensured.
Its texture and finish give it a pleasant look. The SWH gaming desk is designed in such a way to blend perfectly in any household regardless of the interiors.
Specifications
Product Dimensions: 51″D x 51″W x 28.5″H
Color: Espresso
Shape: L-Shape
Brand: SHW
Item Weight: 43 pounds
Pros
Easy to assemble
Affordable
Lots of room
Top-quality design
It comes with a drawer that you can put on any side of the table
Cons
The paint job could've been better
Have stability issues on plush carpets
2. Turismo Racing Gaming Desk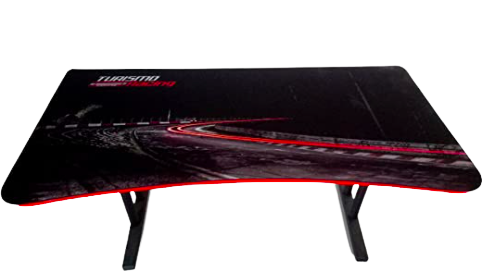 The Turismo Racing gaming desk is not L-shaped, unlike the SWH one above. The different shape gives the Turismo gaming desk lots of unique utilities.
The Turismo Racing gaming desk has tons of features packed into it; one of the most notable ones is the wireless charging pad. This built-in wireless charger lets you charge QI charging capable phones. You charge the latest iPhone and Android devices with it. This feature is particularly helpful; for those who have a charging port in the other room.
Cable management can be a pretty annoying matter for PC gamers. There are tons of cables from multiple devices. If you have a multi-monitor setup, the hassle becomes tenfold. The cable management system of the Turismo gaming desk comes with built-in cable raceways. This lets you completely hide your cables and give your setup a subtle look.
The Turismo Racing gaming desk is very wide and easily accommodates three widescreen monitors. Its impressive build quality can support the enormous weight of the monitors as well as other gaming gears and complements its spacious design.
Specifications
Product Dimensions: 28″D x 48″W x 29″H
Color: Green
Shape: Rectangular
Brand: Turismo Racing
Top Material Type: Alloy steel
Item Weight: 70 pounds
Pros
Vast surface area
Robust construction
Wireless and wired charging feature
Cable management option
Cons
Too heavy for convenient movement.
3. Walker Edison Ellis L-shaped Gaming Desk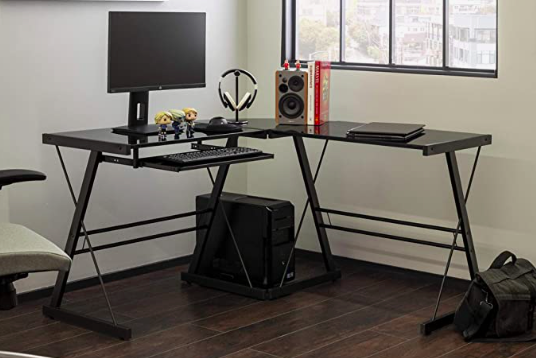 The Walker Edison Ellis gaming desk has lots of cool features that many dual monitor desks lack. If you prefer the old-school method of using keyboard trays, the Walker Edison Ellis L-shaped gaming desk is for you.
When gaming, your keyboard, mouse, and monitor should be on the same plane for better ergonomics. Other than that, using a keyboard tray doesn't harm it. It allows for more comfort and longer working periods.
Not all pc gamers like to show off their build to everyone around. If you are one of those, the pc tower stands beneath should be a handy feature for you. You can put your pc case below the table for a cleaner and more spacious desktop.
The Walker Edison comes in four different glass and frame colors. For those of you who are picky about aesthetics, this table can be a really good option.
Specifications
Product Dimensions: 51.12″D x 51.12″W x 29″H
Color: White
Shape: Corner
Brand: Walker Edison
Top Material Type: Glass
Item weight: 57 pounds
Pros
Modern and professional design
Sturdy build quality
It supports more than two monitors
It comes with extra screws
Excellent design
Cons
No cable management option
No option to install drawers
The keyboard tray could've been better
4. DESIGNA 55" Gaming Desk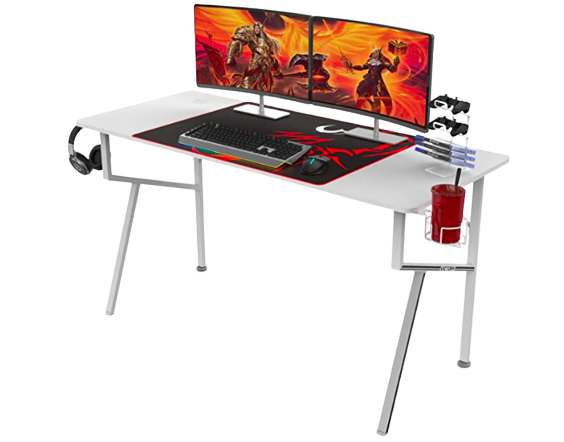 The Designa 55" gaming desk takes a very minimal approach to gaming desk designs. The 55" tabletop space ensures you can place 2 monitors or even three with ease. And it's not just the large space. The Designa offers a variety of features and excellent build quality that gave it a place on this list.
First off, this gaming table is made with carbon fiber which is known for its great durability and lightweight. So, as light as the table might seem, you can be sure that it can take some punishment during those heavy gaming sessions. And carbon fiber also feels very premium to the touch.
From the design, you can clearly see that the DESIGNA was built with serious gamers in mind. It comes with an extensive cable management system, a headphone holder, and even a cup holder to hold your drinks. The desk also comes with a high-precision gaming mousepad made to provide pristine quality mouse tracking when gaming.
Specifications
Product Dimensions: 47" D x 24" W x 30" H
Color: Black
Shape: Rectangular
Brand: DESIGNA
Top Material Type: Carbon Fiber
Item weight: 49.3 pounds
Pros
Great build quality
Lightweight
Very spacious
Scratch proof
Cable management system
Solid frame
It comes with a free high-precision mousepad
Cons
The cup holder is a bit too big
It could be a bit tall for shorter people
Conclusion
If you want to level up your gaming experience, switching to a dual monitor setup can be a great option. An investment as big as this should be well thought out and planned. You are going to have to upgrade your desk for more desk space.
I believe that the ones that I picked on the list of best gaming desks for 2 monitors should be enough to fulfill your need while staying within your budget.