If you're a huge video game fan, you're probably thinking, "Where can I get the best gaming chairs for long hours?" We will help you find the best-fitting chair for gaming relaxation.
There are many qualities to look for when seeking the best gaming chairs for long hours. Your comfort level is the most critical factor. You'll need a chair with special padding and features to keep your back straight and your backside soft.
You'll also need some chairs that can enhance your gameplay positively. We've searched various outlets to find the best gaming chairs for individuals who spend long hours gaming, and we're happy to offer you a comprehensive list.
These five high-quality chairs fill the order for everything you could want in a chair for gameplay.
High Density Upholstery Foam Head Pillow
High Density Upholstery Foam Lumbar Cushion
Support For Large Individuals For Long Periods Of Time
Extended Back Height
Ergonomically designed and boasting an extra high backrest
Featuring a 360° swivel - height-adjustable mechanism - back angle and recline/rock locking system to lock the back at any angle up to 155
Withstand up to 440lbs
1 Year Warranty
Luxury feel executive chair with massage function
Easy to install computer & monitor on (Monitor not included)
Automatic open/close by press on one key switch.
Electrical control reclining to 0 gravity posture 128 degree; Keyboard can be suitable for reclining position;
Hang single monitor(up to 49" ultrawide) or Triple monitors(up to 32")
EWin Knight Office Chair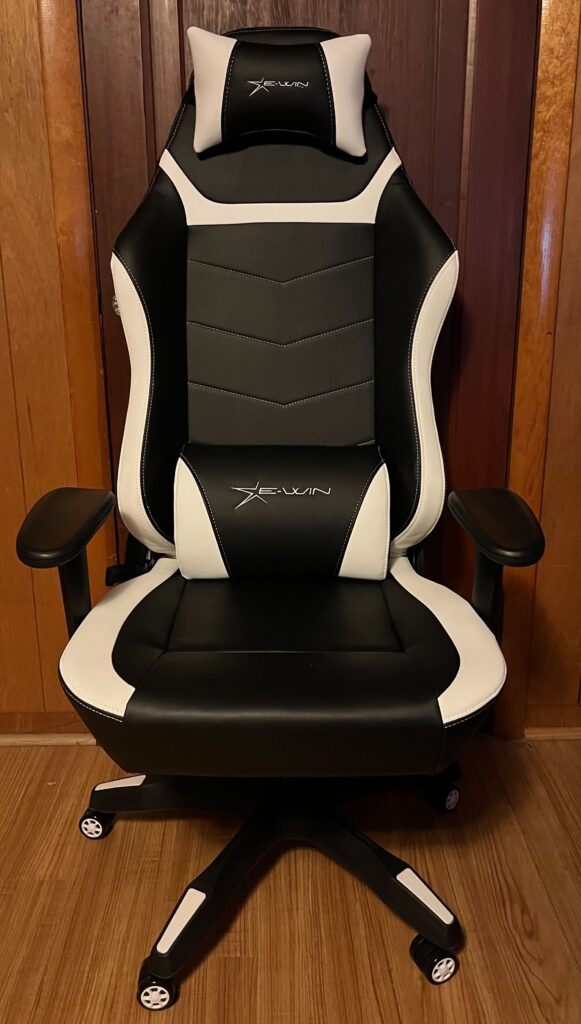 The Ewin Racing Knight Series chair is one of the best gaming chairs for long hours because it comes jam-packed with comfort features. It is one of the best heavy-duty gaming chairs on the market.
But first, let's look at the pricing, which is also an essential factor. This model seems to be in the budget category, as you can secure one for approximately $250 (when they have a sale)
The EwinRacing gaming chairs come in five colors, including green, blue, red, and yellow if you're a fan of vibrant colors. The most phenomenal features of the chair, however, are its pillows and lumbar support. Lumbar support can support your back for those long hours of gameplay.
This office gaming chair has features such as a removable headrest, a footrest, swivel racing castors, and a sturdy star base. Additionally, the chair fits up to 400 pounds on it.
It's one to consider if you're looking for a chair that's light on the pockets, easy on the eyes, and provides good vibration for your back.
FANTASYLAB Big And Tall Gaming Chair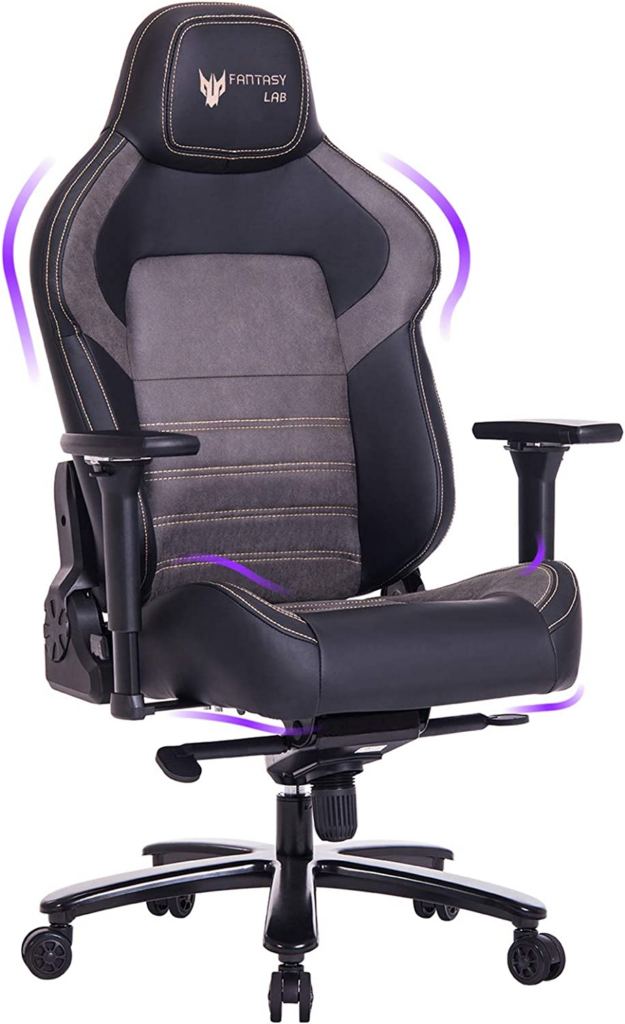 The Fantasylab Big and Tall Gaming Chair is suitable for individuals who are slightly above and beyond typical sizes. The chair's main feature is the capacity to hold up to 440 pounds. It also has memory foam seating, and many consumers say that memory foam gives them cloud-like comfort.
This chair is a fantastic option if you're used to playing video games for hours. It has an ergonomic structure with a backrest and support for your spine and neck. You can also enjoy the fantastic element of having a lumbar support area.
The chair also swivels up to 360 degrees and can adjust so everyone in your household gets some gameplay.
Amazon users rated this model 4.3 stars out of a possible five. It's the perfect model if you're a little bigger than the average chair and want something that will keep you comfortable for long nights.
IWR1 IMPERATORWORKS
The IWR1 IMPERATORWORKS model is one of the best gaming chairs for long hours, and it's also much more than a chair. This unit is a complete gaming station for players who don't mind dedicating big dollars to their comfort.
The chair looks very similar to an executive-type massage chair you would find in a luxury hotel resort. Coincidentally, it has a massage function.
What's also remarkable about this particular chair is that it has a dome that you can use to connect a monitor. The dome will hold the monitor close to you so you can get your gaming experience in 3D style. Other features include reclining abilities, a steel base, and connections for up two additional monitors.
This model is rated 4.2 out of five stars and is mostly revered for its outstanding design and magnificent features. Some consumers have referred to it as a gamer's dream.
Secretlab Titan 2020 House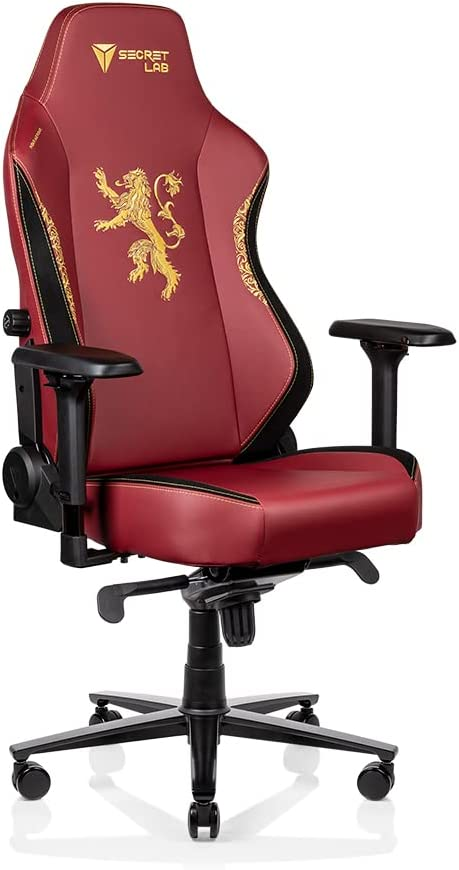 The Secretlab Titan 2020 House is one of the best gaming chairs for long hours if you appreciate elegant design materials. The chair has a signature lion on the back with red and orange faux leather. You can also choose from several other designs, including one with a tiger and one with a dragon.
The manufacturers consulted with top orthopedic specialists before designing this model. Thus, they created a product that would look and feel fabulous while supporting the user's joints and muscles.
The chair has a swivel base and a reclining feature if you want to sit back and relax. Other features include lumbar support, an ergonomic structure, a headrest, a 4D armrest, and cold-cure foam for posture support.
Consider it if you're looking for something that can support you during long gaming sessions and looks gorgeous.
Geepro Massage Gaming Chair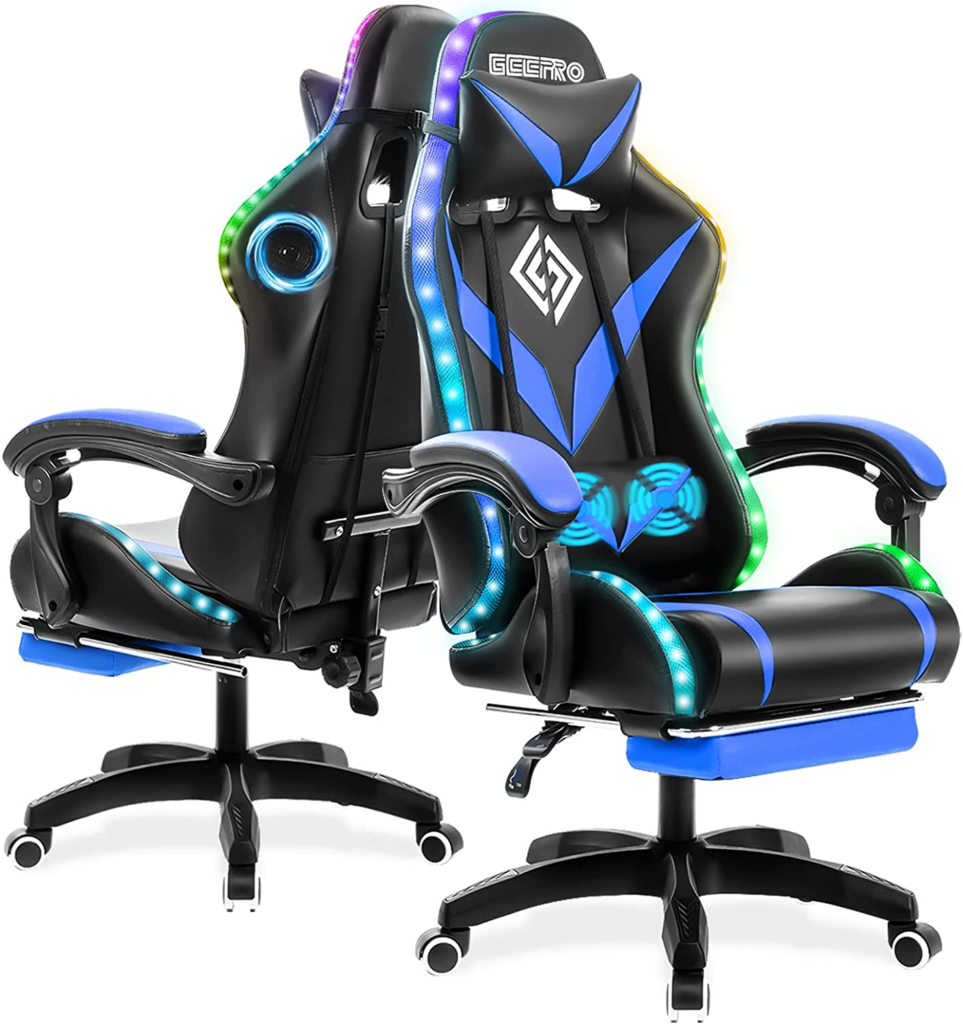 The Geepro Massage Gaming Chair has everything you need for an exciting experience and comfy long-term gaming sessions. First, it is designed with an array of attractive colors to motivate you to play. This model also has dazzling lights to keep you awake while you explore and give you that full gaming effect.
You need not worry about comfort when you play for a long time because the chair has extra support where you need it most. It comes with lumbar support to protect the lower parts of your back from becoming sore when you play for long periods.
It also has Bluetooth speakers to enhance your gameplay so you can hear everything up close. Furthermore, you can put your feet up on the footrest and recline if you like.
The color choices include magnificent combinations designed to elevate your mood while you enjoy your music or gaming experience. The chair has 4.4. stars out of a possible five stars and a fair price range. It might be perfect for you if you're a music fan who spends a lot of time gaming.
Choose one of the best gaming chairs for long hours if you've been seeking a comfortable chair for your gaming activities. You may thoroughly enjoy one of the models mentioned above.