Gaming chairs, like people, come in all shapes and sizes, and just like any piece of furniture, they should be bought to match the person. Unlike couches, gaming chairs only fit one person, so gaming chairs are developed for people of different weights.
If you are overweight and are looking to replace your gaming chair, read ahead to learn the best gaming chairs for fat guys. Here is our pick if you're looking for the best gaming chair for fat guys.
The EWin Knight Series Ergonomic Computer Gaming Office Chair is the best gaming chair for fat guys. You can't find a better chair on the market with an adjustable and lockable headrest and arms, a 400-pound weight limit, and lumbar support pillows.
High Density Upholstery Foam Head Pillow
High Density Upholstery Foam Lumbar Cushion
Support For Large Individuals For Long Periods Of Time
Extended Back Height
High quality PU leather, soft, comfortable, and skin-friendly
Supports up to 400lbs.
This computer chair has an adjustable seat height feature that enables you to lower or raise your seat between 13.4 to 17.3 inch
Free replacement or parts guarantee for any quality problem within 1 year
Overall Dimensions of the Computer Chair : 27.2" x 26.4"x 51.2"- 53.5" inches
Seating Area: 20.9" x 20.5" inches
High backrest: 23.2" x 33.5" inches
Maximum weight capacity: 400LBS
High back computer gamer chair removable padded headrest and lumbar massage cushions
What Should a Large Guy Look For In a Gaming Chair?
If you are looking into buying a gaming chair and you are a bit on the larger side, you should first consider the weight limit of the chair and your weight.
Next, consider the seat size and the chair's build; people who are big and tall may be looking for something different than someone short and tall because their head needs to be supported differently.
Lastly, take into account if the chair has adjustable armrests and how is its lumbar support; a solid steel frame is best if you don't want the chair to break after raging at a game of Valorant.
Best Gaming Chairs For Fat Guys
EWin Knight Series Ergonomic Computer Gaming Office Chair
EwinRacing gaming chairs have produced high-quality gaming chairs for years, and their products seem to be sold everywhere. Their products are tried and tested and come with a warranty.
This chair is actually my preferred chair, as I've been using it for just a few months now and love it!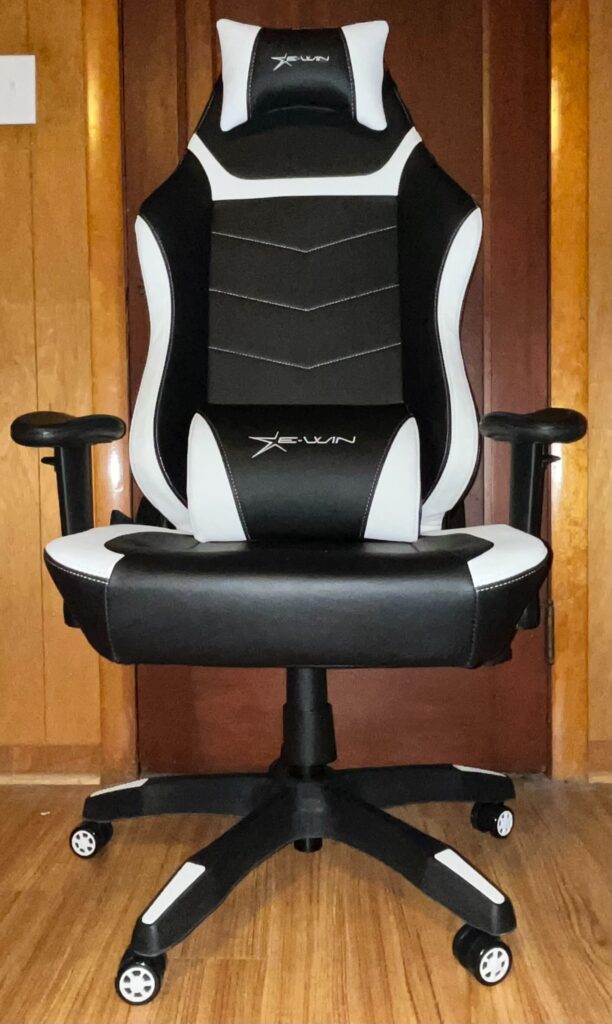 As you can see, the back height is extended compared to most chairs, and the seat cushion is comfortable enough to sit for long hours.
The Knight series stands above the rest of their products, along with other companies gaming chairs because it seems to have everything going for it: good reviews and a good build. The specs speak for themselves.

The Knight series has an extra heavy-duty hand-welded steel frame, structuring all the components together. Its frame can withstand 400 pounds, and the manufacturer states it can last up to 10 years. The frame is coated with an anti-corrosive, so there is no need to worry about rust; although, you should always clean your gaming chair and accessories. It is one of the best heavy-duty gaming chairs on the market.
Regardless of size and weight, you want a chair that lasts as long as possible in pristine condition. The 100% cold-cured foam on the Knight series ensures that you have no embarrassing butt prints or warping. Not only does this padding make the chair comfortable, but it also adds extra support for long nights of gaming and is the perfect office gaming chair.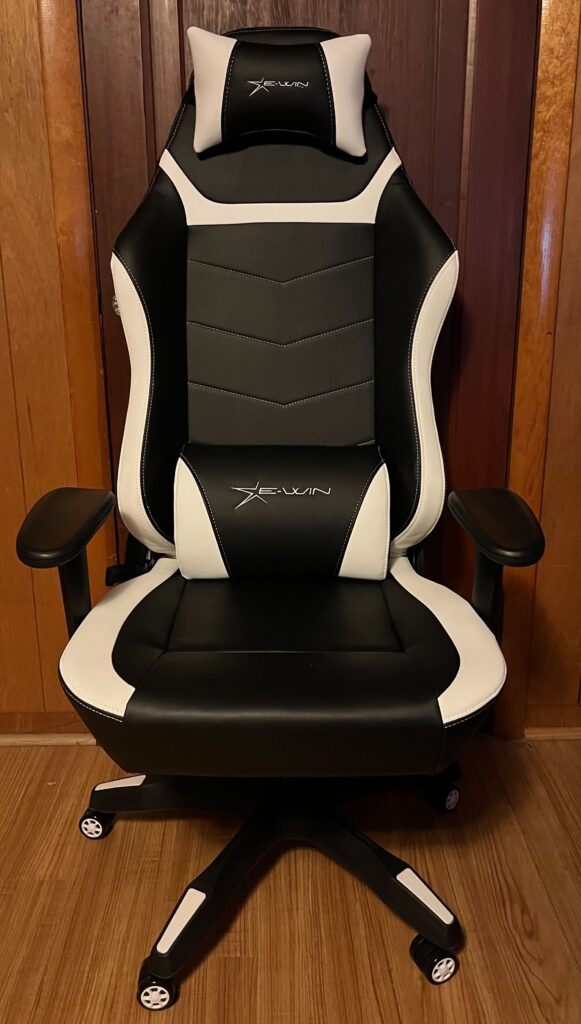 On top of the padding is automotive-grade leather that supposedly does not peel or crack in the first five years of use. Laid on the leathered chair are an XL-sized headrest and lumbar support pillows.
Wrapping up the features of the Knight series, it also has a strong base that withstands rocking and the infamous gamer lean. Lastly, you can lock the chair if it is at a good angle.
LEMBERI Video Game Chair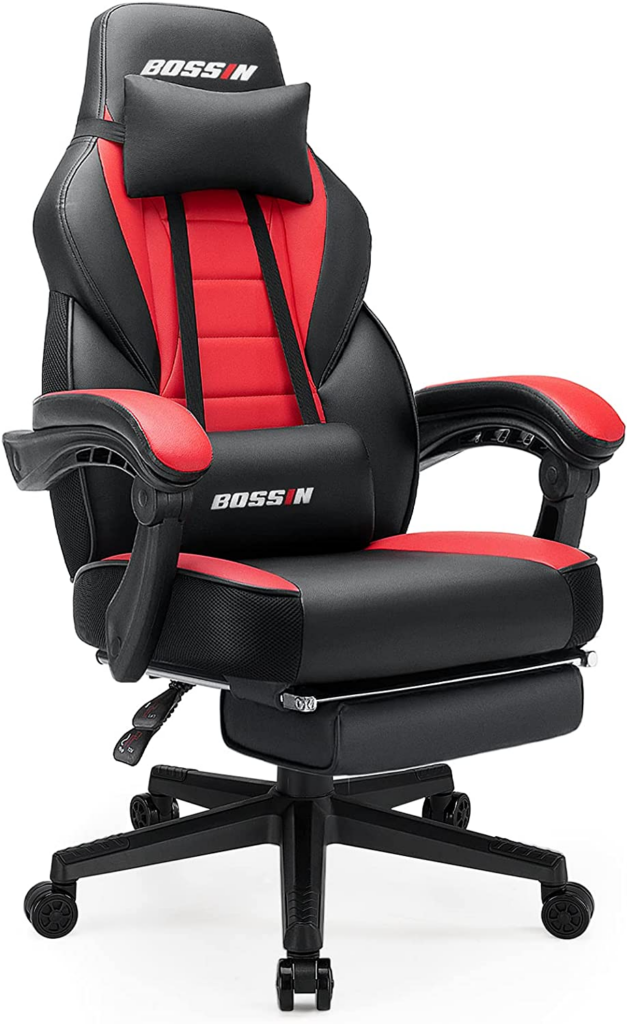 Games already cost way too much, so if you are one of many that are on a budget and cannot afford a ~$500 like the Knight series, consider the LEMBERI video game chair as a comparable alternative.
Despite LEMBERI not being a large or well-known name in the gaming industry, their product definitely stands out. A footrest and 160-degree adjustable seat that allows you to lay fully back is a benefit, especially if you aren't gaming in it 24 hours a day.
Most importantly, it supports up to 400 pounds and has a high back that curves and supports you. This helps adjust your back and posture when you are utilizing the footrest.
Like the Knight series, the LEMBERI has two support pillows: one for your head and the other for lumbar support. The five-star base also ensures that the chair is secure and will not break easily. In the case it does break, buyers have a one-year free warranty for repairs and replacement.
Other benefits of the LEMBERI are its dense foam padding for the seat, which means you will not feel the PVC base. It also has multi-directional wheels, made with rubber casters that last up to 1000 miles. That's roughly the distance between New York City and Gainesville, FL.
FANTASYLAB Big and Tall Gaming Chair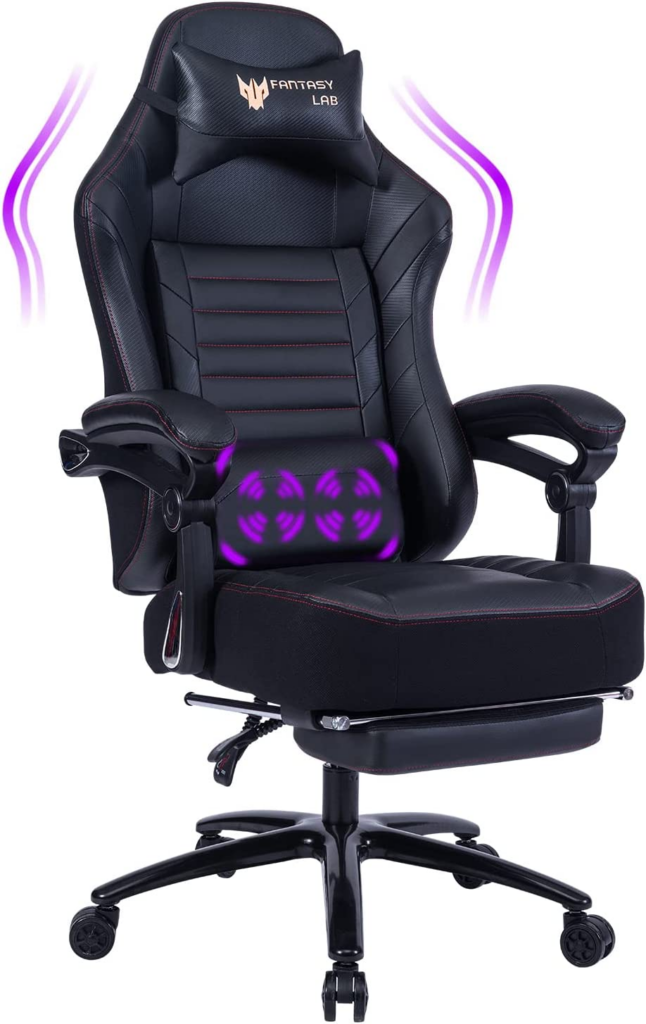 If you are looking for a big and tall gaming chair with built-in massage cushions, look no further than the FANTASYLAB Big and Tall Gaming Chair.
The FANTASYLAB has a high back to support tall gamers, and despite looking like and being marketed as a gaming chair, it is an excellent choice for office workers.
Like the previous two chairs, it supports up to 400 pounds. It is built with memory foam, so you really sink in like in bed. This means that the chair is made to fit you and you only.
FANTASYLAB specializes in chairs for racing, and their big and tall variant is no exception. Spin 360 degrees around and tilt between 90 and 165 degrees to zone in.
The lumbar massage will make you feel like you are in a rumbling car going at top speed, even though you are relaxing comfortably with your feet propped up on a removable footrest. Not to mention that the headrest is also removable, which is good if you are on the taller side.
The FANTASYLAB is a middle-of-the-road chair in terms of pricing between the Knight series and the LEMBERI.
Razer Iskur XL Gaming Chair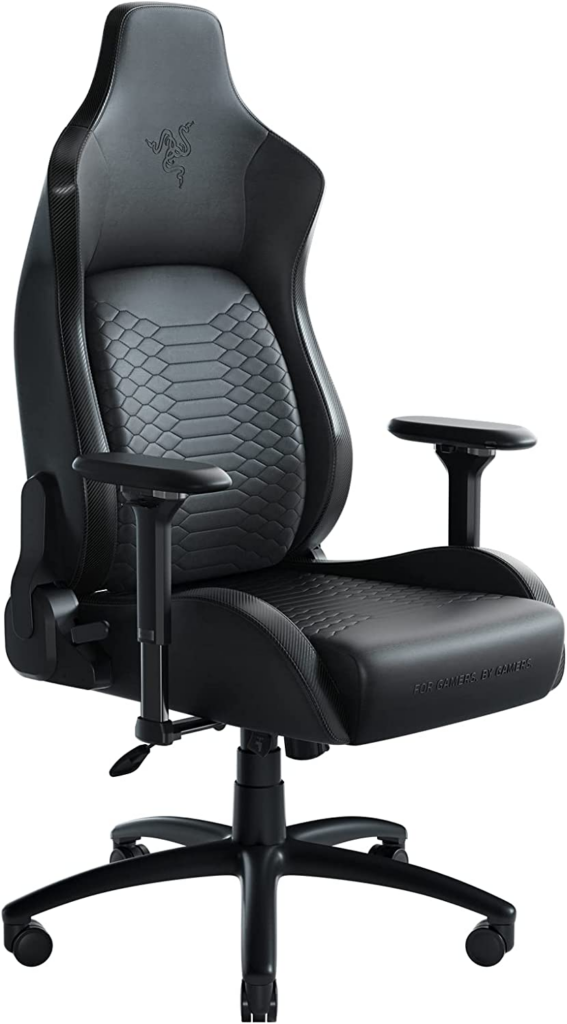 Razer is the biggest name in gaming accessories, so it is not surprising that they can build a good gaming chair.
The Iskur XL model takes everything good about the standard model and makes it fit larger people. All of the same features are included, such as 4D armrests, ergonomic lumber support, multilayered PVC leather, steel-enforced frame, and high-density foam cushions.
However, unlike the standard model of the Iskur, the XL model can hold up to 400 pounds. Razer also recommends this chair to people between 6 feet and 6 feet ten inches tall.
If you are a bit on the smaller side and are still interested in the Iskur, the standard model can hold up to 300 pounds. Razer recommends the stand model to people between 5 feet 6 inches and 6 feet 2 inches.
The Iskur may have a higher price tag than the other chairs on this list. Still, it is recommended by professional gamers, who highlight the chair's lumbar support and posture correction for longer and better gaming.