People over six feet and two hundred pounds have difficulty finding the right chair. This is why we created this blog, to help those who are born large, be comfortable when gaming. What's our best gaming chair for big guys?
The EWin Knight Office Chair is the best chair for big guys. Its durability, comfrot and longevity makes it the top gaming chairs for big guys on the market.
High Density Upholstery Foam Head Pillow
High Density Upholstery Foam Lumbar Cushion
Support For Large Individuals For Long Periods Of Time
Extended Back Height
Using high quality PU leather
Supports up to 400lbs
The adjustable seat height feature enables you to lower or raise your seat between 13.4 to 17.3 inches.360 Degree Swivel
Free replacement or parts guarantee for any quality problem within 1 year
Designed for All-Day Gaming or Work
High-Quality Material: Sturdy one-piece metal frame. PU leather
Can hold up to 400 pounds.
Can be locked at any angle between 90°-180°. After the angle is locked, the chair swings 20°, the armrest height can be adjusted by 2.75'', the seat height can be adjusted by 3.15'', the headrest can be adjusted and lumbar pillow.
Dimensions: 21"D x 23"W x 56"H.
1 year parts quality warranty
What Makes A Gaming Chair Ideal For Big Guys?
When seeking the best gaming chairs for big guys, the first thing to consider will be capacity. An average gaming chair can withstand no more than 250 pounds. As a result, these chairs have smaller frames. So, big guys should go for a chair that can at least support 300 pounds or more.
The next important thing is adjustability. The chair needs to have multipoint adjustments. This means supporting your neck, shoulder, arms, and lumbar area of the spine. Otherwise, you will experience the nasty soreness and pain that comes after long gaming sessions.
Besides these, also look for a chair that is durable in all aspects. Which means it has a strong base and wheels. Plus, the leather and padding should be able to hold their own against all kinds of impact. The anti-corrosive coating is also a nice addition because it makes the chair easier to keep clean.
5 Best Gaming Chairs For Big Guys
A good chair is essential for long gaming sessions. However, most gaming chairs in the market are mainly designed for the average or small-frame guys. Big guys have a hard time fitting into those. And if they somehow manage, it is still really uncomfortable. So, here are five of the best gaming chairs for big guys exclusively.
1. EWin Knight Office Chair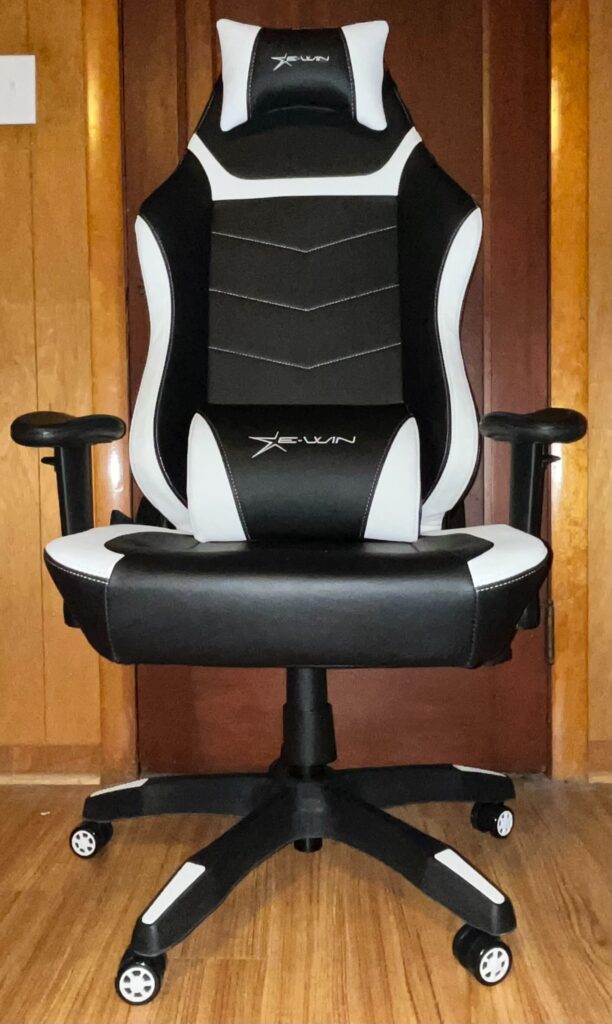 The EWin Knight Office Chair can hold more than 400 pounds of pressure. The custom-built heavy-duty gas lift has been designed just for that. The heavy-duty gas lift makes it one of the ideal gaming chairs for big guys because it makes the chair not only strong and sturdy but also flexible.
At the same time, you can comfortably tilt back while gaming or taking a small rest between work. The lockable tilt ensures your safety.
This gaming chair has superior durability. An anti-corrosive coating covers the chair's metal frame. Therefore, it can remain fit for use for many years to come. This coating also makes the chair easy to clean. Also, the cold-curved foam padding is resistant to all kinds of weather impacts.
Also! We've managed to get you a 20% off deal by using promo code Gethypedsports at checkout. This should help you save even more money.
Pros
Strong yet flexible
Superior durability
Cold-curved foam padding
Cons
Limited delivery options
Delivery of wrong products
2. LEMBERI Video Game Chairs 400lb Capacity
The LEMBERI video game chair can easily hold up to 400 pounds. Making it one of the strongest and most ideal gaming chairs for big people. Moreover, the back is designed to embrace the body and provide much-needed lumbar support. As a result, you can play for long hours without any pain in the back, neck, or shoulders.
Furthermore, it has high-quality, soft leather. And the foam shall adjust according to the gamer's body shape, which makes it comfortable in all aspects. Plus, the armrest is strategically designed to give you the most convenient position during gaming.
The armrest gives you a strategic advantage in competitive gaming. You can respond more quickly. Plus, I do not experience any fatigue even after lengthy sessions.
Lastly, The LEMBERI Gaming Chair has a five-star base. This makes it extremely durable under a heavy load, like 400 pounds. The casters are made from rubber and are designed to be soundproof. So, you can swivel and roll for hours without annoying anyone else.
Pros
Can support heavyweight
The body-hugging design maintains back health
Comfortable design
Cons
Delivery options are limited
The product might get damaged during delivery
3. Furgle Gaming Chair
Appearance-wise, the Furgle Gaming Chair can beat any other gaming chair on the market. The chair is shaped like a racing car seat, making your racing game experiences more real than ever before. Plus, the bold black color and the leather and latex design add more to its heavy-duty look.
The ergonomic design makes the chair ideal for long hours of gaming. It almost feels like a massage chair due to its adjustable body-hugging properties. Therefore, it's healthy for your spine, shoulders, and neck. Moreover, the material has no allergic capabilities and can absorb sweat.
Heavy load bearing is a special feature of the Furgle Gaming Chair. It can easily support up to 300 pounds and above. For that, it has a four-stage hydraulic piston integrated into the design. A sensitive valve maintains the pressure on the piston. Plus, there is a five-star base that can be folded when necessary.
Pros
Appealing appearance
High-quality cushion material
Four-stage hydraulic piston design
Cons
Not a wide range of available color options
The delivery process is complicated
4. Toszn Ergonomic Video Gaming Chair
The beautifully green Toszn Video Gaming chair is made from faux leather and carbon fiber. It covers the full length of the gamer's back. The high-density sponge padding doesn't let your back sink. At the same time, it adjusts and holds your body in a healthy position to keep your lumbar spine intact.
You can play for hours in this chair without experiencing any pain or discomfort in the shoulders or neck afterward. You can swivel it around 360 degrees. Plus, if you need to tilt back, you can do that up to 150 degrees and lock it anywhere in between.
One of the best things about the Toszn Video Gaming Chair is its multifunctional capability. It is not only a gaming chair. You can also put it in your office, library, or anywhere else that requires long sessions of sitting for work.
Pros
Tilt and lock as you please
Use for more than one purpose
High-density sponge padding
Cons
The delivery process is lengthy and late
Damage during delivery
5. FANTASYLAB Big And Tall Gaming Chair
The FANTASYLAB gaming chair has all the necessary features to make it ideal for the big guys. It can easily bear up to 400 pounds. Thanks to its metal base and extra-strong foundation. Plus, the smooth corrosion-resistant wheels let you easily roll around the room.
You can sit and work in this chair for hours. The design supports your back, neck, and shoulders and adjusts accordingly to the shape of your body. The foam lumbar cushion keeps your spine in place and permits a healthy posture.
This protects the most injury-prone part of your spine. If you still find your neck sticking out, take advantage of the extra high backrest.
The wheels on this chair are also noteworthy. They are butter smooth and have corrosion protection. Those who have lived with squeaky and scratchy chair wheels know why this is so important.
Pros
Back supporting lumbar cushion
Impact-resistant wheels
Extra high backrest.
Cons
Limited design options
Delivery process confusing
Conclusion
The best gaming chairs for big guys are essential for the tall strong digital warriors to keep them fit in battle. Don't think the world is more friendly for the smaller guys. Instead, get suitable accommodation and enjoy your size.