Safe football helmets are essential to ensure brain injuries are prevented. We break down what makes a safe football helmet and how you can ensure you (or your child) prevent concussions through helmet best practices.
Football helmets must fit comfortably, pass all safety measures, and have a clear vision for the appropriate position. This is how trainers and coaches determine if a football helmet is safe.
In this article, we will look at the safest football helmets for 2022.
At the end of the article, we'll show you where you can purchase each helmet directly online.
What Is the Safest Football Helmet For 2023?
We're going to break down the best helmets for 2021. In our research, we found that three key factors come into play when buying a helmet that every parent should consider:
How comfortable the helmet is
The safety rating of the helmet
The look and feel of the helmet
A football helmet must pass at least three aspects to be worn properly.
Sizing A Football Helmet
There's nothing worse than putting on a helmet and it starts squeezing your head. The pressure on your forehead often gives you an instant headache.
On the other hand, having a too-loose helmet can be uncomfortable, as the top lip starts to slip down and hit your nose. Helmets are currently measured in 4 sizes:
Small
Medium
Large
Xtra- Large
Each manufacturer may have different names for the sizes. However, these are the standard sizes for football helmets.
Sizing Your Football Helmet
Ordering helmets online is like ordering clothes online. Sometimes a medium is a medium; other times, it's a bit bigger/smaller.
The best way to fit a helmet is to try it on in person before you buy.
Helmets typically take 1-2 weeks to ship. If your helmet is the wrong size, getting your correctly fitted helmet could take close to a month.
We recommend trying on helmets from the manufacturing months before the season starts. If the helmet is defective or doesn't fit, ship it back.
Football Helmet Safety Information
The most important aspect of a helmet is its safety. Gone are the hard shell helmet days with barely any padding in them.
The newer helmets from famous companies such as Riddell, Schutt, and Vicis endure safety first in all their helmets.
Safety information can be provided by all manufacturers that create football helmets. We recommend reading the safety information and understanding where the helmet is strongest and weakest.
See Our Complete List Of Helpful Football Articles Here
Best Football Helmets For 2023
Riddell Helmets
From the Riddell website:
"The Precision-Fit process is different for every player. Riddell is able to gather specific preferences such as helmet positioning, then scan the unique contours and shape of each player's head to create one of a kind pad sets."
Riddell features a new custom fit technology called "precision fit" to help you pick a helmet that perfectly fits your head. The sizes mentioned above (small, medium, large, and Xtra-Large) are a thing of the past for Riddell.
Read more about their precision fit here: Riddell Precision Fit Explained
Schutt Helmets
From the Schutt Website:
"Since 1918, Schutt has been dedicated to the pursuit of innovative protection for athletes around the world. We design our gear for maximum performance based on standards dictated by the most important person in our eyes — the player. Years of exhaustive research and testing led us to develop the most advanced impact absorption system in the game, TPU cushioning. we've adapted this technology and applied it to multiple sports, along with a host of other innovations like energy lock technology powered by d3o®, lightweight design, and enhanced fits. Learn how our passionate pursuit of protecting athletes reaches from the lab to the field, season after season."
Schutt uses a combination of patented technologies to ensure that your head is best protected on impact from another player.  
Vicis Football Helmets
Vicis is an exciting company and the newest helmet company.
Most helmets have a comfortable bladder on the inside and a hard shell on the outside.
The Vicis helmet has a comfortable bladder, a hard shell, a "column layer," and a softshell. Their technology is explained in this video.
Learn More About The Vicis Zero1
Football Helmet Safety Ratings
Each year, two studies are done – one by the NFL (in partnership with the NFLPA) and one by Virginia Tech. Both studies are non-bias, self-funded studies that help rate which helmet best reduces impact severity upon contact.
Virginia Tech Study On Football Helmets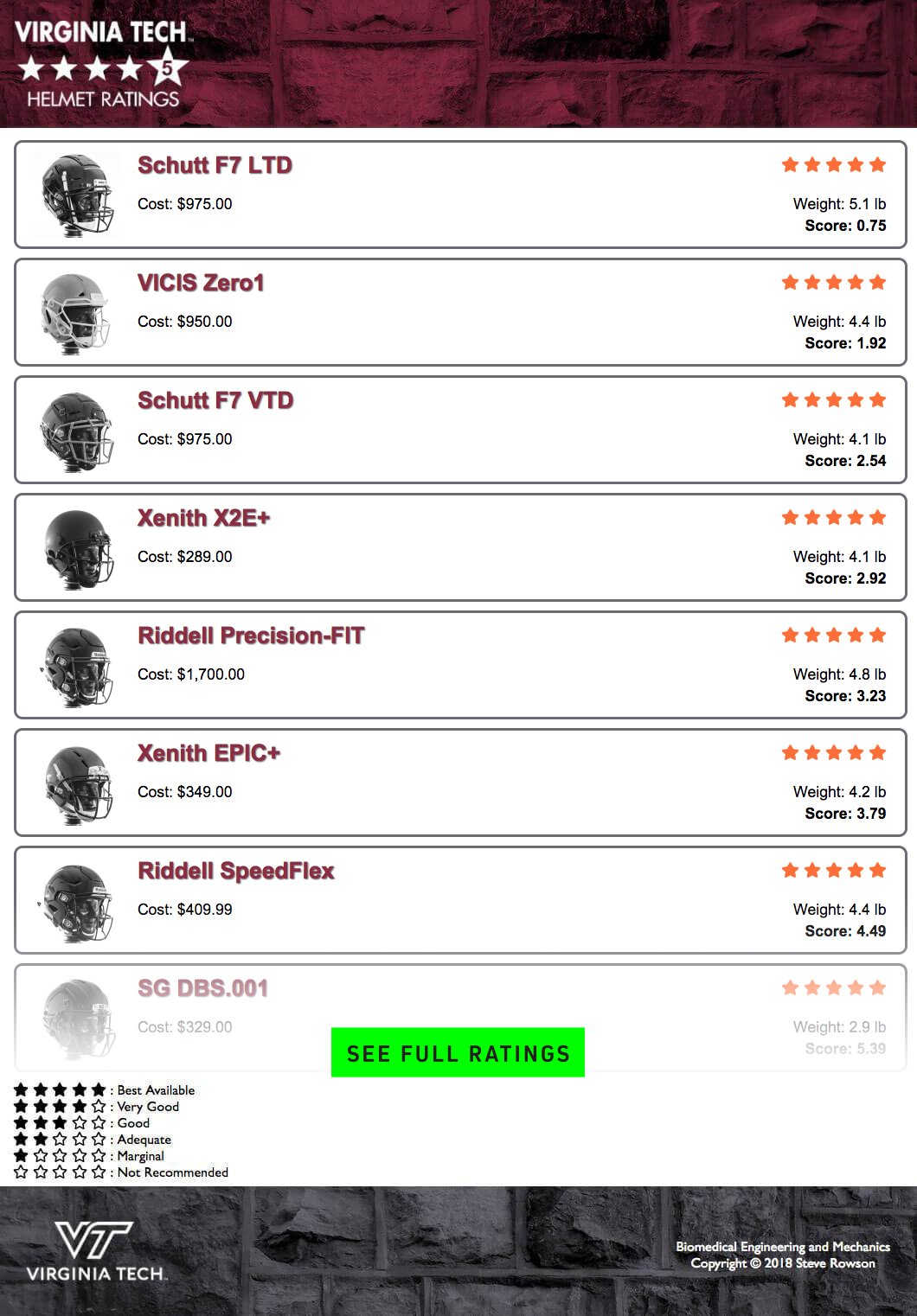 NFL/NFLPA 2021 Football Helmet Safety Study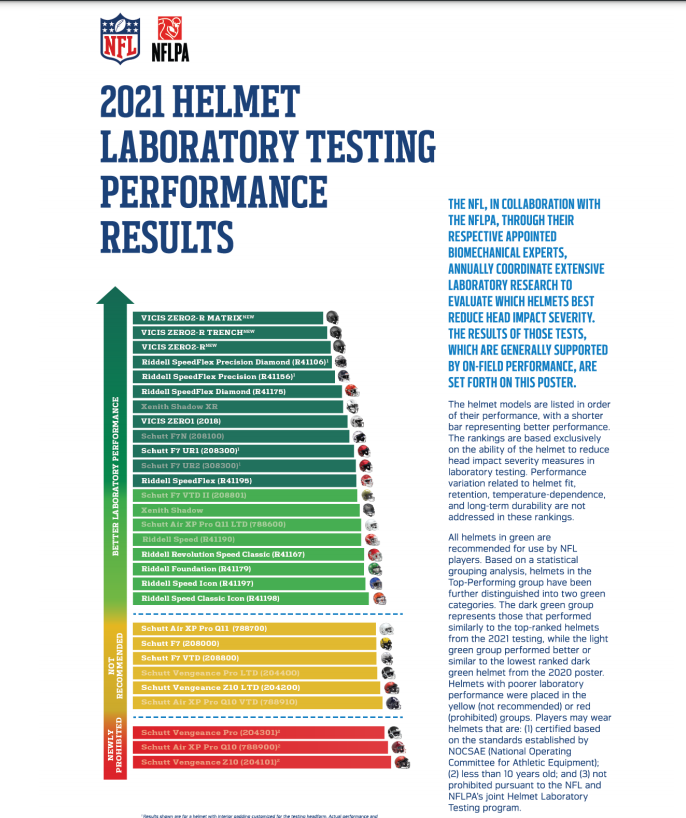 Above is a chart conducted by both the NFL and the NFLPA in a joint effort to compare helmets. The green chart indicates better laboratory performance, and the red indicates prohibited helmets. Although this is a chart for the NFL, it's good to note how they protect from head injuries, and the chart should be followed closely.
As noted above, the testing was based on reducing head impact. Items not included in the testing are helmet fit, retention, and long-term durability.
The chart shows that the top 3, Riddell, Schutt, and Vicis, rank among the top helmets. Although highly pricey, these helmets may be worth the investment to maintain longevity throughout the season.
Safe Football Helmets To Purchase
Once we've checked the first two boxes, we do not want to ensure the helmet looks good. Here are our Top 3 Picks For Best Looking Helmets.
Vicis Zero1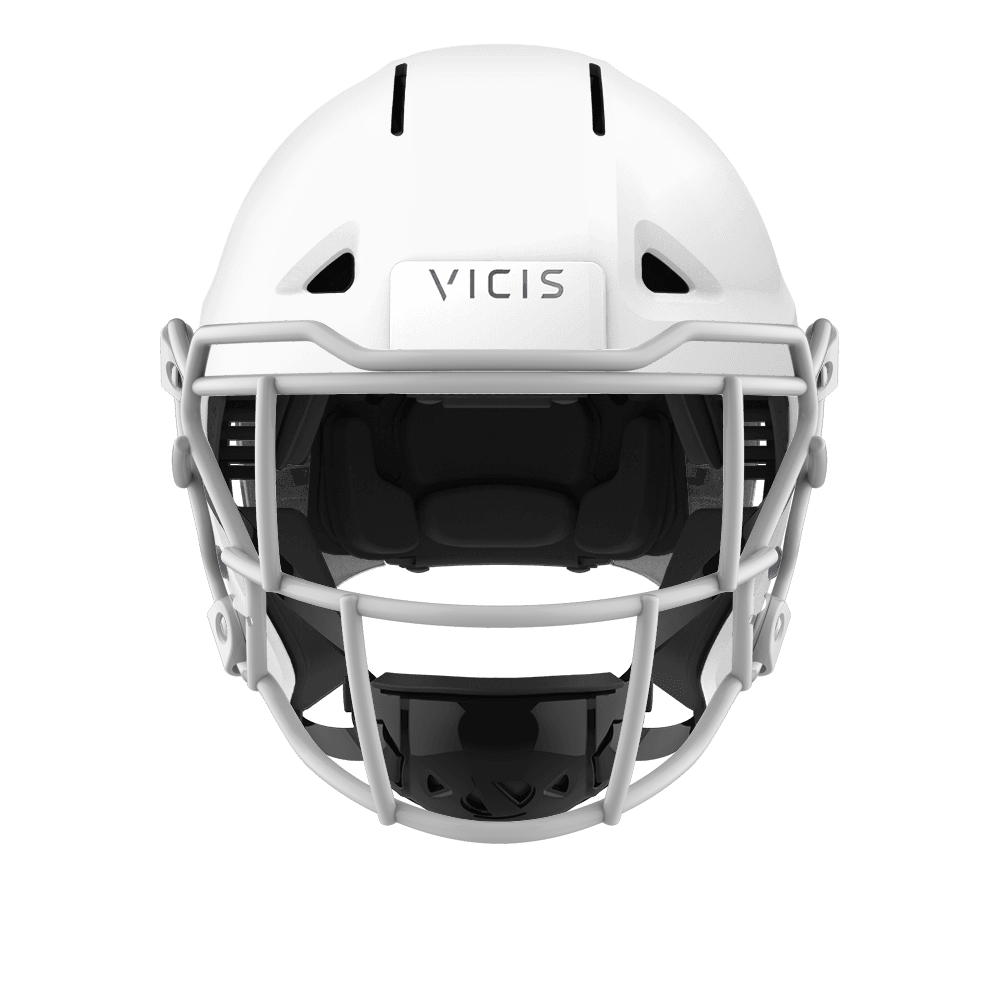 The Vicis Zero1 is the newest and hottest helmet on the market. Its softshell and futuristic helmet design makes players stand out from others.
On top of its added safety benefits, the look and feel of the helmet is entirely different and will set you apart from your teammates.
Schutt F7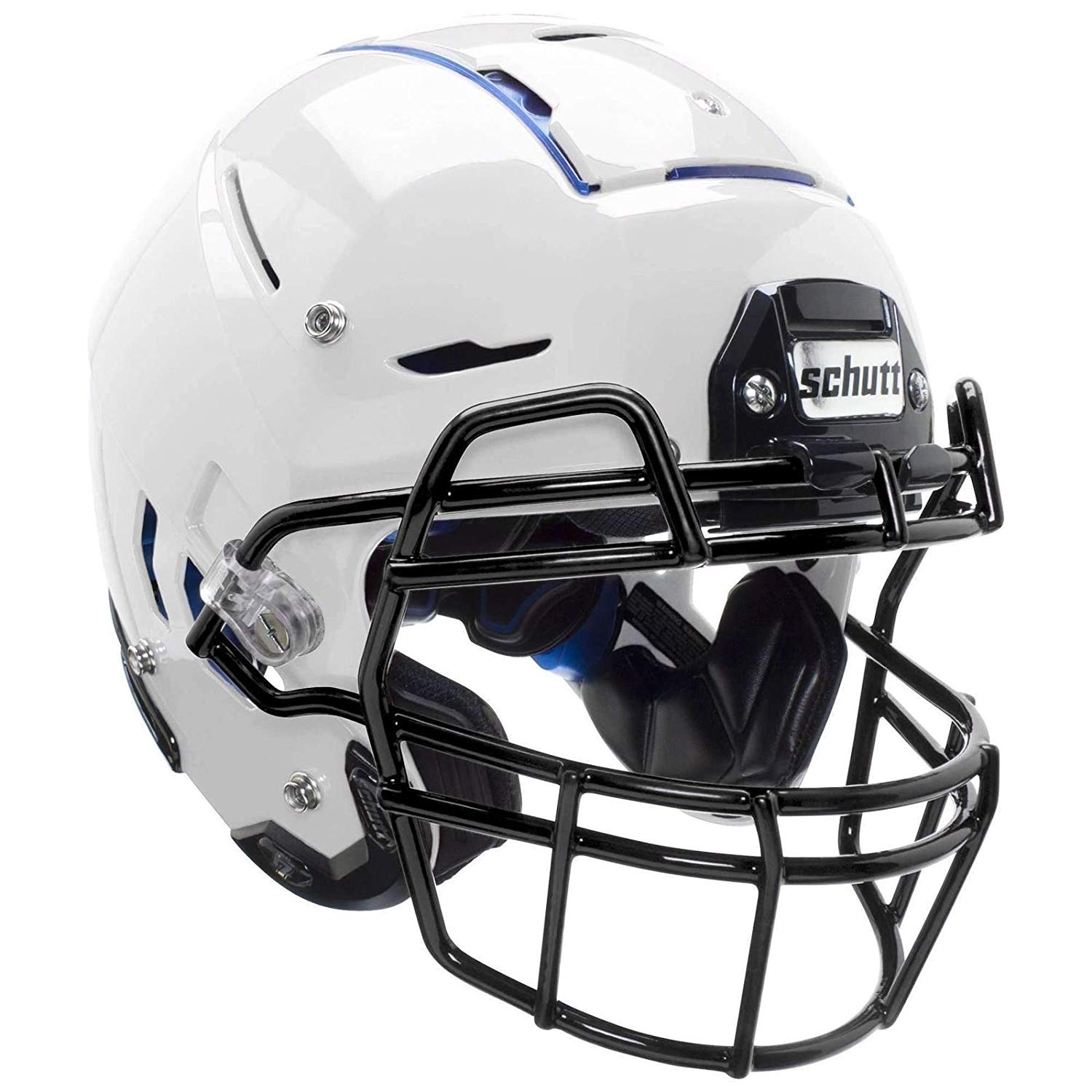 The F7 helmet (although expensive) has a new school face mask design and helmet structure. The helmet design is new(er), which features a shock-absorbing sweet spot on the top of the helmet.
It comes equipped with chinstrap buckles (2 on the side, 1 on top) located in different areas for your choice. The face mask, unique with several sections of bars, lines the top. This helmet is very easy to screw in and screw off if need be.
Riddell Speed Flex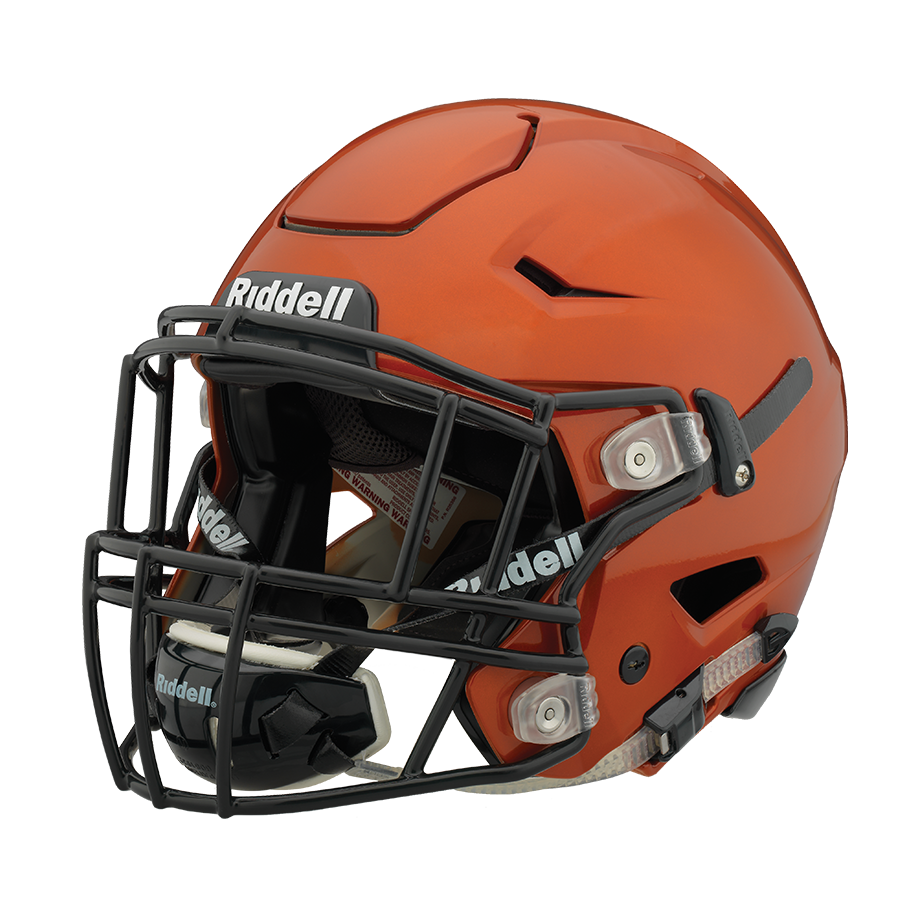 The most popular football helmet on the market: The Speed Flex. Worn by every big-name college program and NFL team, the speed flex has a slick design.  
One thing that's new on the speed flex is the screws. Instead of having to screw the helmet, they use simple pop tabs, which are useful for quick and easy access.
The helmet also features a new "zip-tie" strap system. Instead of buckling a helmet, the helmet are tightened by pulling on the strap.
Conclusion
Safe football helmet companies rely on the soft bladder and the hard shell to help prevent brain injuries such as concussions. Having a reliable new helmet is worth the investment.
We recommend checking back to the chart from the NFL about their independent study on football helmets for a reliability check.