Football visors have been around since the 1980s, but current rules made completely tinted visors illegal. In the NFL, players can wear dark tinted visors. In college and high school, dark tinted visors are illegal.
All visors are at the referee and training staff's discretion whether or not they can be worn. The reasoning behind now allowing a dark tinted visor is mainly for concussions and injury reasons.
For unconscious players, the training staff will need to see through the tint of the visor. The medical team had a tough time looking through the visor, never mind looking under the visor.  
However, specific visors are legal. In this article, we will show you what visors are illegal in football.
Why Do Football Players Use Visors?
Football players use visors for many reasons. These reasons are mainly for protective and injury prevention purposes.
Protect eyes from any physical harm (poked, scratched, or gouged)
Adds a protective layer for eyes that are sensitive to light
Improve the style of the helmet
Protect Eyes From Any Physical Harm
Have you ever been at the bottom of a pile during a game, and the opponent reaches in your face mask? Ever lost a contact lens from getting poked in the eye?
Visors can help protect against these situations. Most visors sold today are easy to attach to helmets. Typically plastic clips or zip ties can secure a visor from being knocked off or dislodged from a helmet.
Improve The Style Of The Helmet
As mentioned above – plain and simple, it looks cool! Knowing you're the best running back on the team with a tinted visor and you're all swagged out boosts your confidence. If you're a wide receiver and torching a corner all game, and he can't stop you, staring him down with a tinted visor adds to the effect.
See Our Complete List Of Helpful Football Articles Here
What Type Of Football Visors Are Available?
Smoke Grey Visors
All black tint has been ruled out of any high school and college play. Gone are the days of Willis McGahee and Ed Reed in college with the dark visors on the field.
The all-black visor look was intimidating, but it also helped players block out the bright lights if their eyes were sensitive to light.
Below is a visual reference of the smoke grey visor.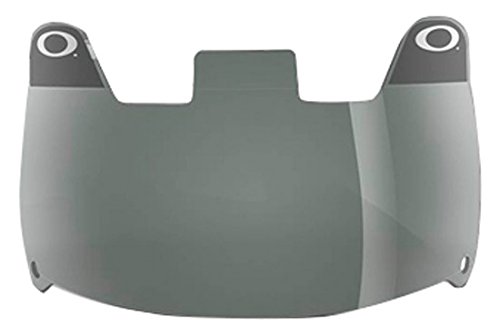 Companies like Oakley, Under Armour, and EliteTek have smoke grey visors that are legal and easy to assemble.  
Polarized/Mirror Visors
Polarized visors are commonly used to reflect the sun or the bright lights – similar to how a baseball player or golfer would wear sunglasses.
Polarized/mirror face masks have become wildly popular over the years. Professional athletes (such as Le'Veon Bell) wear the polarized visor.
Often, the reflective tint will match the team's primary or secondary colors. These face masks have a bright color reflective, reflecting both the sun and any other emitted lights.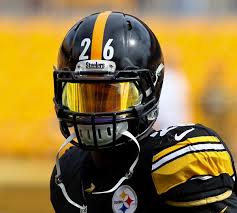 Team Color Visors
Blue and green visors have also increased in popularity in football. Players can now match their team colors to specific tints in the visor.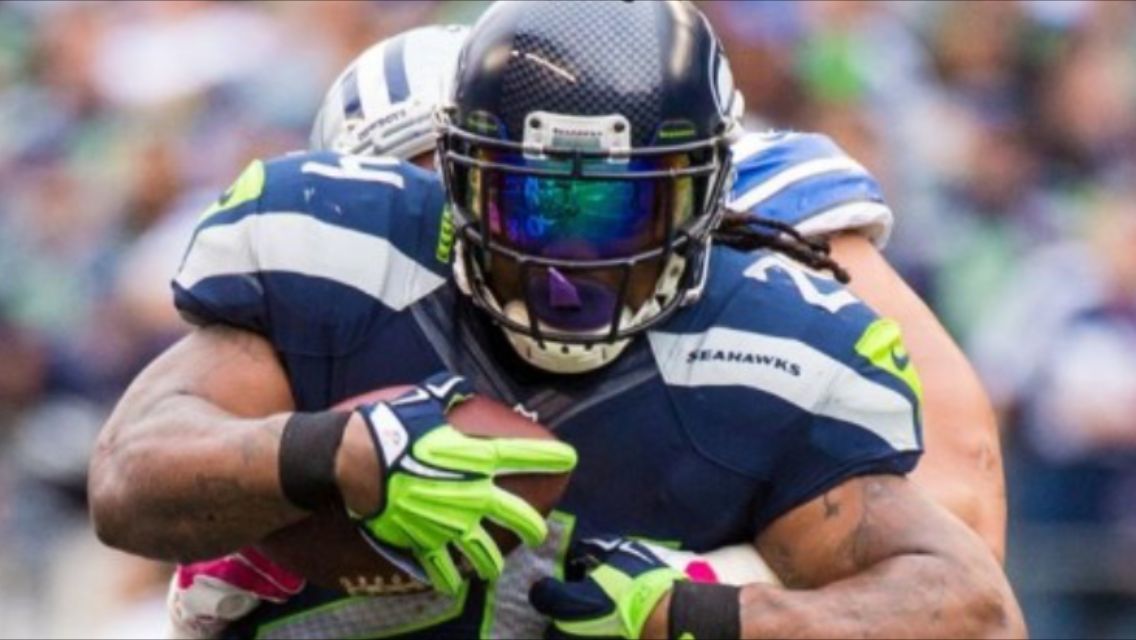 The rules still apply, as noted above, as players can wear specific tints based on their league rules and the referee's discretion.  
Words/Images On The Visors
One of the newest players in the visor game is 2G visors. These visors are slick. We had one custom-made for getting Hyped.
All you do is pick which style you want and send it to them. We used zip ties to lock it into place, and it was good to go.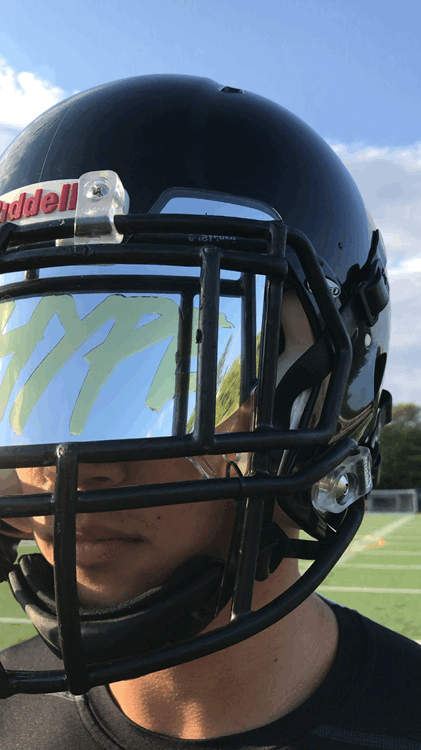 Their website mentions that these visors are only legal for All-Star Games or practices.
Legal Football Visors You Can Purchase
We dug through nearly a hundred different types of visors and compiled a list that was easy to assemble, cost-worthy, and, more importantly, legal.
We do want to make a note; that all visors are at the referee's discretion. If he deems it illegal, it will have to be taken off.  
EliteTek Clear Football Shield
Universal Football Fit 2-clip system – fast, easy attachment & removal
Fits all kid's & adults' helmets. Application on Youth XS & S may be difficult but is possible.
Anti-Fog & Scratch Resistant Coating: applied to ensure clarity and durability (No visor is 100% scratch-proof).
Impact Resistant: Optical polycarbonate material blocks harmful UV/Blue light. It eliminates annoying glare and controls light intensity.
Approved For All Leagues: This clear visor is approved for all youth, HS, and College games.
100% Money Back Guarantee: EliteTek Visors are backed by a 100% guarantee that you are delighted with your product or receive your money back.
This is our number one pick for purchasing a football visor.
Unique Sports Clear View Football Helmet Eye Shield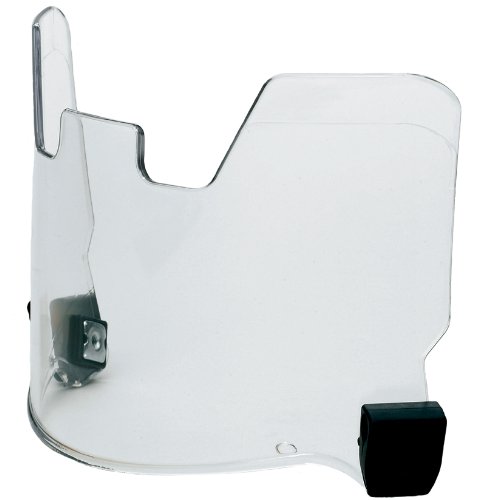 3mm thick, distortion-free, polycarbonate lens.
The lens is treated on both sides with anti-scratch and anti-fog coatings.
The wrapped lens eliminates blind spots and glare.
Wrapped lens for a precise fit – Made from shatterproof polycarbonate.
This is the most cost-effective visor on our list. If you're strapped for cash, this visor is for you.
Shoc Clear Football Visor
Shoc is often known for its colorful visors. Those are great for all-start games and practices. The visor we're recommending is the clear version.
COLORS: 14 different color options. Colors are very reflective and change with the light source
MATERIALS: Shatterproof molded polycarbonate with anti-fog, anti-scratch, and hydrophobic coatings
INCLUDED IN BOX: SHOC 1.0 Visor, black screw/t-nut clips, soft carry bag, SHOC Visor tab decal sticker set, lens cleaning cloth
CERTIFICATIONS: Tinted colors are NOT approved for HS or college game use. Ask your coach if he allows tinted visors for practice or tournaments before buying
RESTOCK FEE: $10 Restock fee for all returned visors –
CHECK WITH YOUR COACH/LEAGUE BEFORE ORDERING  
This football visor has 14 different color options where you can customize the tint to your team. Again, we recommend you check with your league and officiating staff before making a purchase.
Under Armour Football Visor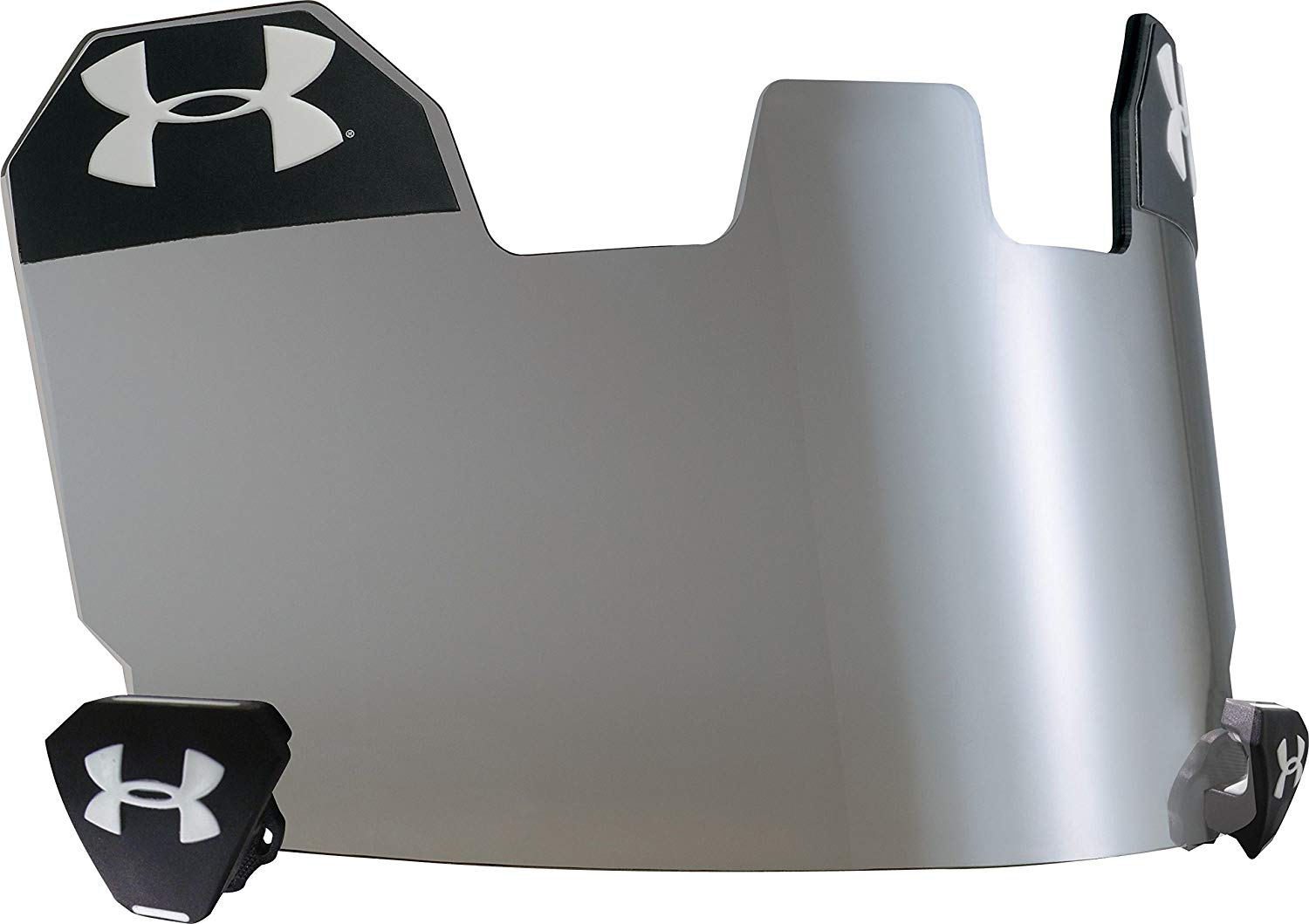 The lens is made from a lightweight and poly-carbonate solid lens material with anti-fog, and anti-scratch coatings are added
Features the universal fit and quick-release clips making it simple to use on virtually any helmet without any tools
Each visor comes with a tab with logo stickers in multiple team colors and numbers to match your team jersey  
Under Armour is one of the premium names in football equipment. Their visors are no different, as they always deliver a great product.
Nike Gridiron Eye Shield
Easy Assembly
Fits Newer Helmets
Helps To Protect Eyes
Nike Decal Logos
Similar to Under Armour, Nike is the leader in football equipment. Their products pass the style test and are reliable to last the entire season.
Conclusion
Football visors that are illegal are often the completely black ones. The black tint doesn't allow training staff or referees to see through. This creates a problem for trainers to see your eyes if an injury does occur.
We recommend you check with your coach and league officials before purchasing a dark-colored face shield.
Related Questions
What Are Football Visors Made Of?
Football visors are made of poly-carbonate plastic, which provides a clear and protective view for the player.
How Do I Clean My Football Visor?
Football visors should be cleaned with soap and warm water. Reapply the soap and water until it's spotless. It's important to check the clarity of the visor before it's reapplied back to the helmet.
How Do I Install A Football Visor?
Football visors typically come with clips, which can be screwed on and off to securely lock in the face mask. Players who lose the clips may also use zip ties to fasten the visor into place.
Which one is your favorite? Is there a visor you'd recommend?