Finding the right hockey stick for a beginner can be a frustrating process. Luckily we've sifted through hundreds of hockey sticks to highlight the best hockey sticks for beginners.
In this article, we will show you the best hockey sticks for beginners.
We recommend you view the prices on Amazon to view discounts or price changes due to supplier availability.
What Makes A Good Hockey Stick For Beginners?
Durability (Flex)
Durability, otherwise known as "flex" in hockey, is easy to bend the stick. This is important for a few reasons:
Taking a slap-shot typically requires a bend of the stick, especially for players who hit the ice well before they hit the puck. The stick's flex naturally allows for the puck to slap with a bit more power.
The flex is also important because it will bend, not necessarily break. Hockey is a physical game, and sticks are consistently caught in contact, whether that be with bodies or other sticks. Hockey sticks are also really expensive so having a stick that will flex is important for durability.
Weight
Weight is another contributing factor when choosing a hockey stick.
Hockey players consistently skate with their stick in one hand as they chase after the puck. Having a heavy stick can not only make a player's arm tired; they have to consistently lug it around the ice in preparation for the puck.
On the flip side, having a stick that's too light will feel like the player is swinging a twig generating no power. There's a happy medium, and it's all player preference in the durability and weight of a stick.
We recommend going to a hockey store and finding which flex and weight are good for you.
Younger players should look to purchase hockey sticks that have less flex so they're able to get a better feel for passing and shooting the puck. It will also help improve wrist strength by snapping the puck to teammates.
Hockey Sticks For Beginners
53" Reinforces shaft
Junior handle for smaller hands
Crossover stick ideal for street/inline and Ice hockey
Full wrap graphic treatment
ABS Blade to give the feel and performance of an Ice hockey stick but the durability to withstand rough surfaces
HPR - with an ultra-high balance point and performance engineering the high performance ratio of the new stallion stick has been optimized for players seeking durability and performance in one package
Power flex profile: provides a constant load and consistent release of energy during the shooting motion
Ultra high balance point: amplifies the feel and playability of the stick
The Pros Approve - Input from elite & NHL players was imperative in all elements of design for the Stallion HPR
The Ninja III 30 is the perfect stick for players under 57" tall.
Most youth sticks have a shaft too narrow to allow for correct puck control and cutting inches off a typical junior stick will increase the stiffness negatively affecting passing and shooting.
The Ninja III 30 is the only stick in hockey with a flex low enough to correctly fit players who weigh less than 80 pounds. All this with a 60-day warranty.
Mylec W/ ABS Blade

Our first hockey stick is the Mylec W/ ABS blade. The ABS blade stands for acrylonitrile-butadiene-styrene, which is a hard plastic-type. ABS blades can be heated up and shaped into whatever curve the hockey player prefers.
This stick is excellent for beginners because it allows players to cross over from street hockey to ice hockey. It's a multi-purpose stick that allows young/junior players to take shots in their basement, driveway, or on ice when time is available.
The stick is 53″ and allows the junior skater to play hockey anywhere. We highly recommend this stick for new skaters.
STX Stallion HPR 1.2

The STX Stallion HPR 1.2 is an excellent stick for intermediate-sized skaters looking for a more customized feel for their stick.
STX offers both left and right-handed orientations and two different style types (X88 & X92). This stick also features a power flex shaft for quick release and load capacity.
Raven Ninja III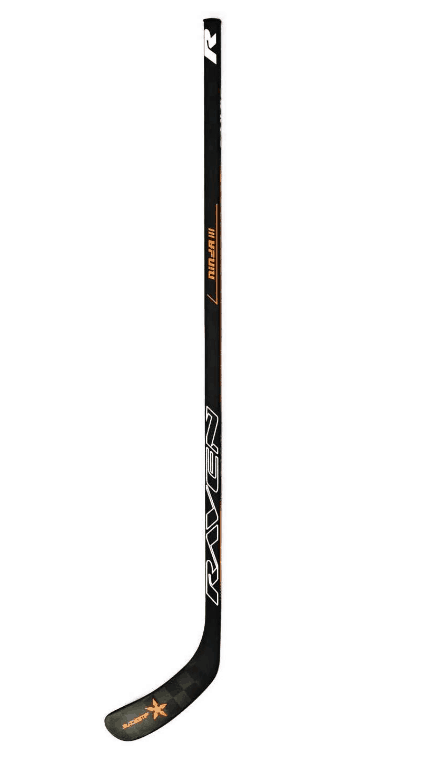 The Raven Ninja is geared toward junior players under 57″ tall. It's an excellent stick for less than 80 pounds who want a beginner stick to start passing and shooting.
The shaft material is made from C19 and C88, both completely customized options. The flex on the stick is 30, perfect for new players to sustain impact throughout the entire game.
STX Surgeon RX3


Our second STX hockey stick on the list is the STX Surgeon RX3. The RX3 comes in the right and left-handed orientation and has three different style names to choose from.
The shaft provides increased surface area, maximizing hand contact points and increasing shape over the stick due to the design.
The STX has precision flex II technology, which STX has re-engineered for flex peak for quick, responsive play.
Raven EDGE 20

The last stick on our list is one of our favorites. The EDGE 20 hockey stick is one of the shortest junior shaft/blade combinations at 47″ long and still maintains a 20 flex. This stick is excellent for players under 52″ tall.
Most youth sticks will feature a too narrow shaft; the EDGE 20 ( along with the other sticks on this list) features a normal shaft that allows for fluid control.
View other Helpful Hockey Articles Here
Raven is so sure you'll love their stick that they provide a 60-day warranty with all of their purchases. Available models are the C19 and the C88.
Conclusion
Youth and junior hockey sticks are essential for both parents and players. Parents need to find sticks within the budget, and players need sticks that are both comfortable and compatible with the new style of play.
The hockey sticks we've provided above are great starter sticks for youth players. Following our guide above will not only help get your young hockey player started, but it will also help save your wallet for hockey skates and other hockey equipment.
Hockey is typically an expensive sport. The equipment can add up relatively fast between the pads, skates, sticks, and tape. Hockey sticks are known to break when caught between sticks or even on impact. This is the main reason behind finding the right price for a hockey stick.
We took careful consideration in finding hockey sticks for beginners that were budget-friendly. Hockey is a great sport and should be played by all ages and classes, regardless of the player's financial situation.