The best thing about basketball is that it can be played anywhere there's a hoop and a basketball. Pick-up games are played both in gyms and outdoor basketball courts worldwide.
Surprisingly, all basketballs are not the same. Basketball is designed for outdoor and indoor courts. It's essential to understand which basketballs will be most efficient on certain courts.
When purchasing a basketball, it's essential to pick the right ball dependent on the surface it's being used on. In this article, we will show you the best basketballs for pickup games.
Types Of Basketballs
Before purchasing a basketball, it's essential to know three types of basketballs.
Outdoor Basketballs
Indoor Basketballs
Hybrid Basketballs
Outdoor basketballs are exactly what it sounds like. These balls are designed to be played on a hardtop or concrete basketball court. The ball is also designed to fall through a chain-linked net consistently.
Outdoor basketballs typically have a smoother surface than indoor basketball. For reference, if you've ever won a basketball at a carnival or arcade game, these are more than likely outdoor basketballs that feature a smooth surface.
Indoor basketballs are specifically made to bounce on the hardwood floor. Wilson or Spalding often makes these balls for reference. The balls are more rigid and have a more defined shape than the outdoor basketball.
Hybrid basketballs are a combination of the two. The ball is built to withstand the hard surfaces of concrete but has an indoor ball's rigid curves and features.
Hybrid basketballs are great for anyone looking to save money on a basketball. Consistently playing on outdoor and indoor surfaces may deteriorate the basketball itself.
However, hybrid basketballs are built to withstand even the toughest surfaces to ensure there's no drop-off in play.
How Long Do Basketballs Last After A Pickup Game?
A few variables depend on how long a basketball will last. The variables are:
How well it's kept and taken care of
The weather conditions the ball is used in
How often it's used
To start, taking care of the basketball is essential for its longevity. Leaving a basketball outside in the rain or in consistent cold weather will deteriorate the outside of the basketball (primarily for outdoor basketballs).
Because cold weather and hot weather affect the air pressure in a basketball, it's vital to keep the basketball stored at a warm, neutral temperature.
Last, and the most obvious, is how often the ball is used. If the outdoor basketball is consistently bounced on hot concrete and small rocks, it will slowly crack the outdoor basketball.
Indoor basketballs with frequent use will also start to lose their grip and smooth out over time. Indoor basketballs typically last much longer than outdoor basketballs.
We recommend if you buy an indoor basketball, you're consistently cleaning and taking care of it. Leaving it in cold atmospheres will cause the ball to lose air pressure and reinflate when it gets back to average temperature.
This will leave cracks in the basketball as it's consistently inflating and deflating, ultimately weakening the bladder of the basketball. Keep the basketball in your house, room, or somewhere where the air temperature will remain the same for all hours of the day.
Best Indoor Basketballs For Pickup Games
We recommend you view the prices on Amazon to view discounts or price changes due to supplier availability.
Signature EVO feel: the soft feel that the evolution basketball is famous for is due it's cushion core carcass, making the ball softer to the touch and easier to grip around the rim
Grip & durability: the premium Evo microfiber composite cover provides a grip that players love and durability to last all season and beyond
Ultimate control: laid-in composite channels create a consistent feel and texture over the entire surface of the basketball to provide unparalleled control
NFHS approved: approved for play by the national federation of state high school associations (NFHS)
Official size basketball: 29.5"
Proper inflation level: 7-9 psi
Intermediate size and weight: Size 6, 28.5 inches
Performance outdoor rubber cover
Shipped inflated and game ready
Designed for outdoor play
Recommended inflation is 8 PSI
Official NBA size and weight: Size 7, 29.5 inches
Performance composite cover
Shipped inflated and game ready
Designed for indoor and outdoor play
Wilson Indoor Basketball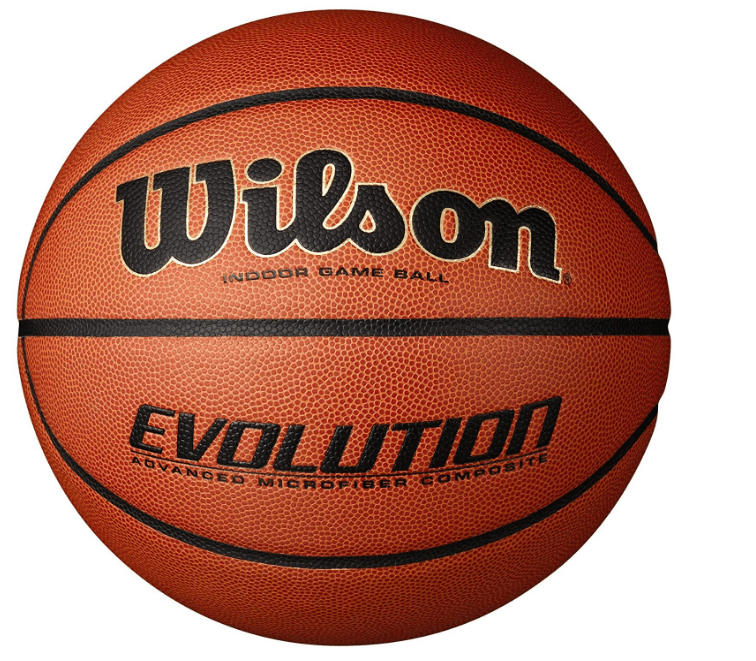 Wilson is one of the top brands in indoor basketballs. The Evolution basketball shown below is one of the top-rated basketballs. The evolution features its signature "Evo" feel with a soft cushion core carcass that makes the ball soft to the touch.
The Evolution ball is NFHS-approved, meaning it can be used in an actual high school game. This ball is excellent for players to practice in the off-season and in-season.
Spalding NBA Official Game Ball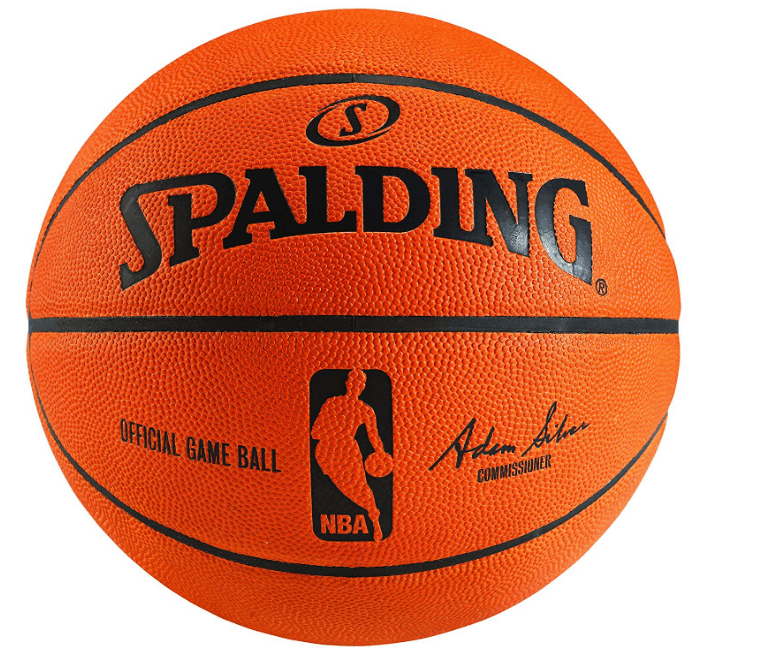 The Spalding Official NBA game ball is made from full-grain leather for an authentic feel.
Authorized by the NBA, this basketball is great for any player who wants to shoot like their favorite NBA player.
This ball is the perfect competitive indoor pickup for players who want to feel like a pro.
Best Outdoor Pickup Basketballs
Spalding Varsity Outdoor Basketball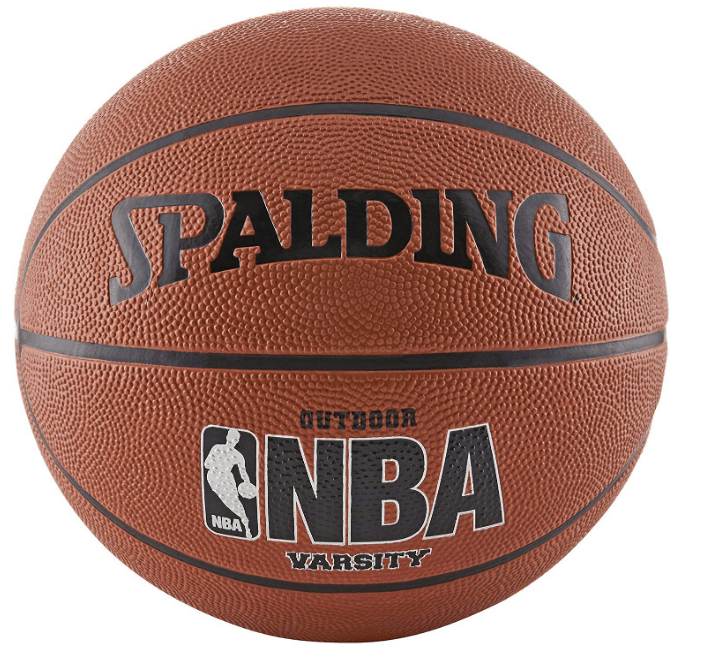 The Spalding NBA varsity outdoor basketball is our choice for the best outdoor basketball to purchase.
Made from the same company that makes NBA basketballs, Spalding delivers different styles/colored outdoor basketballs explicitly made for outdoor play.
Best Hybrid Pickup Basketballs
Spalding Indoor/Outdoor Game Ball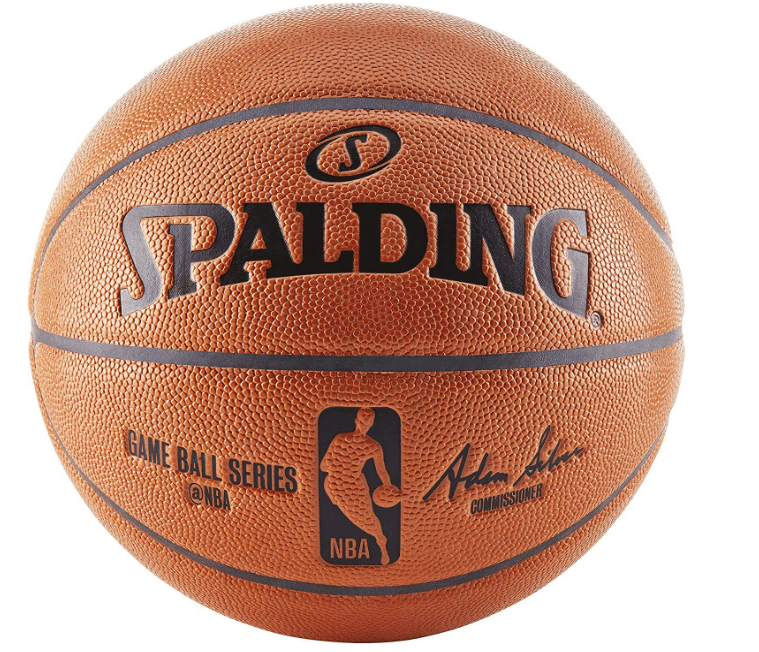 If you're consistently playing basketball on both indoor and outdoor courts, it may be in your best interest to purchase a hybrid basketball.
The Spalding NBA replica indoor/outdoor game ball is designed for indoor and outdoor play. This hybrid basketball is made with a composite cover that can withstand rough conditions outside and the smoothness of an indoor hardwood floor.
Conclusion
All basketballs are not the same. When shopping for a basketball for a pickup game, get a feel for where you'll be playing most of the time. If you ball both indoors and outdoors, buying a ball for each scenario may be helpful.
If you're looking to save money, simply purchasing a hybrid ball for both styles of pickup games will be in your best interest. We recommend buying a basketball for each surface that you'll be playing on.
If you live in a state where it's hot in the summer and cold in the winter, having two different basketballs between the climates and courts will be beneficial.
Spending the money to buy two basketballs for pickup games will pay off in the long term, as the basketball's lifespan will be expanded.
We are against having one ball of all uses, simply because it will get ruined (if it's an indoor ball) if it's consistently played for pickup games outside. Taking care of an indoor ball should be the main priority if you spend money on it.