Footballs are not one-size-fits-all. Footballs start small and gradually get bigger as players grow and get bigger and stronger. When a football player reaches a professional league, the football will be at its biggest size.
Players should use the football that fits the hand. Especially for younger players, bigger football is harder to hold and push down the field. Football players should hold the ball with one hand and deliver it successfully to another player with no issues.
When players start to progress in their football careers, the football will be uncomfortable to hold at first. Younger players should focus on developing grip strength and get used to gripping the football on the laces.
If a younger player throws the ball with two hands instead of one, this indicates the ball is naturally too big for them to throw with one hand.
In this article, we will show you the best football for each age group, starting with a 5-year-old and ending with high school football.
| Football | Retailer |
| --- | --- |
| Wilson K2 Composite Football | View On Amazon |
| Wilson TDJ | View On Amazon |
| Wilson TDY | View On Amazon |
| Wilson GST | View On Amazon |
The Best Football For A 5 Year Old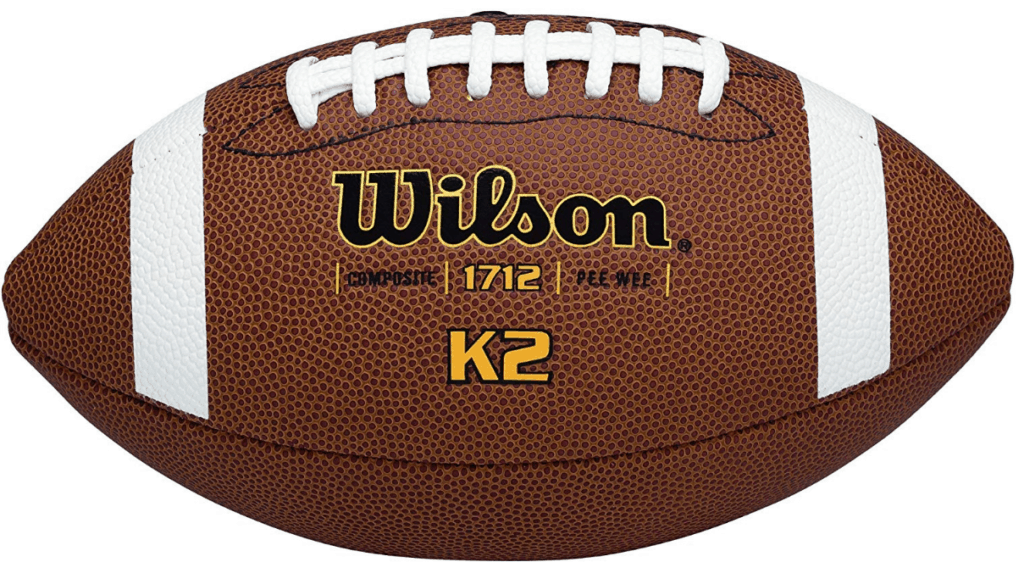 Peewee footballs are the footballs that should be bought for any age between 5 and 9 years old. These footballs will fit the hand of a player this age. They should have no issue holding on to the football with one hand.
Peewee footballs are the smallest type of football made used in the field of play. These football are often called "mighty mite" balls or youth-sized footballs.
These footballs are perfect for parents that want to get their kid into football at a young age. It's small enough to teach them how to throw and catch the football without hurting their arm or shoulder.
The football we recommend is the Wilson Composite football. It's made for K2 players (peewee).
We recommend this football because the laces are thick, rather than traditional painted stripes that can be found on most footballs.
Wilson has a patent on their "accurate control lacing," which provides 174% more grip in all conditions, perfect for someone who's learning how to throw a football.
The Best Football For A 10 Year Old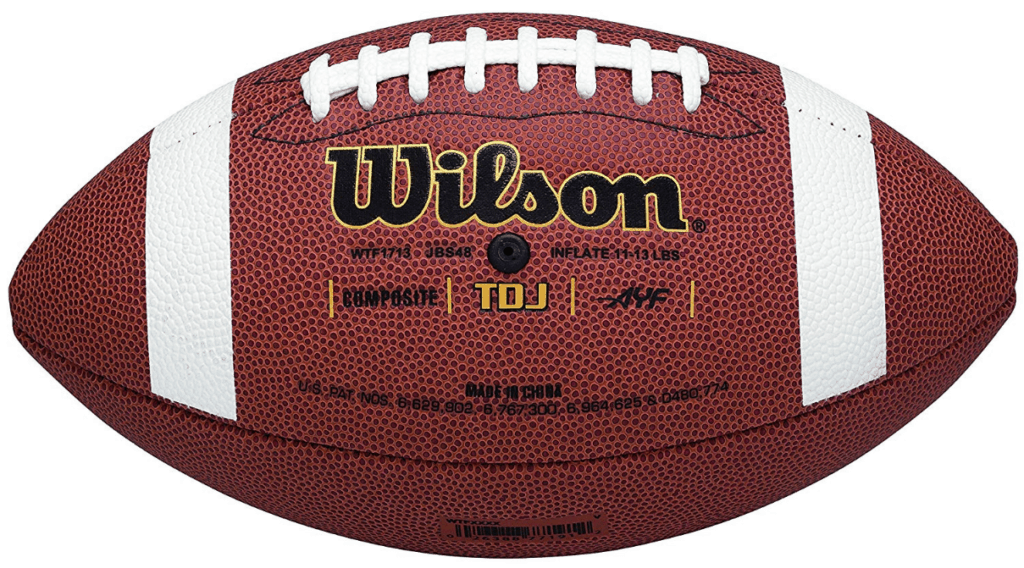 One step above the peewee football is junior football. Junior football is typically used by 10-12 years old.
Junior football is slightly bigger in both circumference and length. However, the ball is still durable enough that the 10-year-old can comfortably hold and deliver the football without any issues.
See Our Complete List Of Helpful Football Articles Here
Junior footballs are standard in Pop Warner and the American Youth Football league. The standard junior football weighs roughly 11 ounces.
Junior footballs are often labeled TDJ. The football we recommend for a 10-year-old is the Wilson TDJ football.
The Wilson TDJ is commonly used in youth football as standard football. The composite ball is excellent for football practice and throwing around the backyard.
Best Football For Middle School Players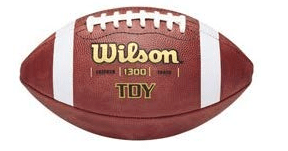 Middle school footballs are slightly smaller than they'll throw and catch at the high school levels. Middle school football is essential football because of the transition in size.
It will seem massive and impossible to throw if a player goes from junior to high school-sized footballs. It's essential to throw the middle school ball first, which will act as a bridge ball before the player gets into high school.
Leather footballs will start to be mandated for league play, so we recommend picking up a Wilson TDY football suitable for ages 12-14.
The Wilson TDY is made with their patented ACL gripping system and a multi-ply bladder that provides air retention and moisture control.
Best Football For High School Players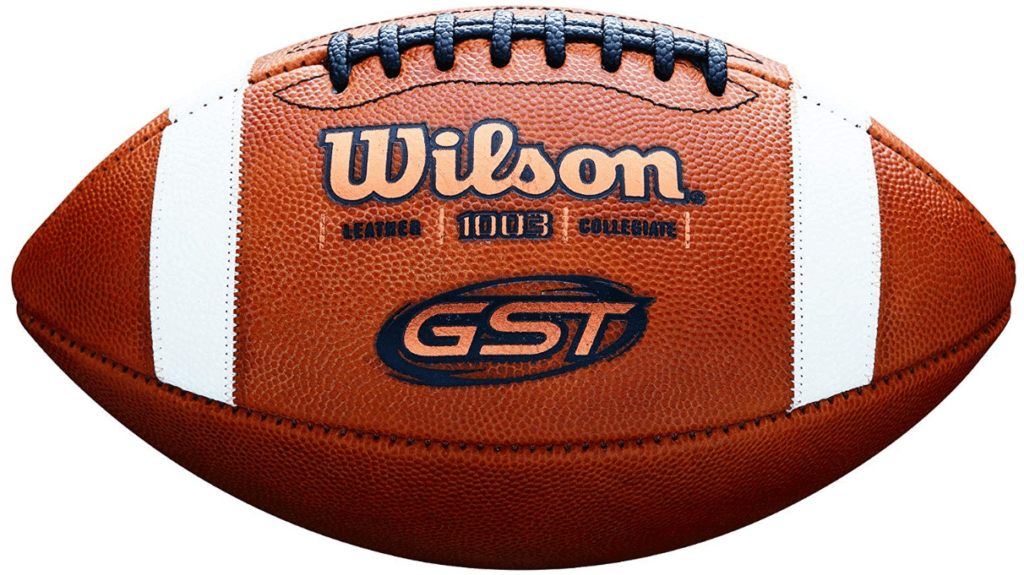 High school footballs are the next biggest football. At first, high school footballs will seem uncomfortable for 14 year-olds who hold it for the first time. Its weight is between 14-15 ounces and has roughly a 28-inch circumference.
In order for a high school football to enter the field of play, it must be marked legal for NFHS or NCAA field of play. The only state that currently plays by NCAA rules is Texas; NFHS governs all other states.
Wilson's GST is our pick because of its structure and texture, especially during wet weather games. The GST has composite material as the stripes ( the white part of the ball), which allows the quarterback to have a better grip when the ball gets wet. It also helps the receivers track the ball as it's in flight.
Wilson claims the same skilled hands that go into making the NFL balls we see on Sunday are the same hands that go into making the Wilson GST! The quality of these footballs is the best on the market. If you're going to throw a high school football, the Wilson GST is one of the best footballs out there.
Conclusion
Footballs are all personal preferences. Heavily inflated or deflated to the limited, each quarterback, receiver, and running back have their preference for the ideal football.
It's important to work up in sizes gradually; therefore, each season, the player is 100% comfortable with the ball they're using. Starting at a young age, throwing a football that is too big for the hand can discourage young players that they can't throw far.
It will also build incorrect mechanics from consistently throwing a poor ball.
Try out all the balls we've listed above, whether for in-season play or backyard football games. Each football is game-certified by each perspective league.
Let us know what football you like the best, and at which level. These are our favorite picks of footballs that tend to help players mature as quarterbacks or for backyard fun. These footballs are also all regulated by their leagues, so you're able to practice at home and use them directly in a game.