If you wonder why wearing polos while golfing is so important, here is an answer. Golfers wear polos because of the tradition, and they have been doing that for decades.
However, some golfers say there are other reasons for wearing polos, such as respect, comfort, and the desire to look and feel good.
Brief History Of Golf Polos And Golf Fashion
First, golf appeared in Scotland in the 15th century. To protect themselves from cold and harsh weather, players wore thick fabrics, such as tweed or plaid. Their golf uniform often consisted of heavy tweed jackets and flat caps. 
Later, in 1918, a Vanity Fair article was published, saying that golfers should wear a single-breasted jacket, golf cap, waistcoat, and long socks. Gold was becoming increasingly popular, and players started wearing knitted cardigans, shirts, ties, and patterned long socks. 
In the 1940s, players opted to dress for comfort, so it was no longer common for golfers to be seen in formal suits. Players decided to move entirely away from dress shirts and ties, and knitted cotton golf polo became an element of a typical golf uniform.
Throughout the following decades, new styles of polos were introduced. In the early 1970s, the extended-placket button-pocket polo was first designed.
However, the most iconic piece of gold uniform became Tiger Woods' red Nike polo, even though it was not a classic golf polo. In the 21st century, technology brought a new approach and vision to golf fashion.
Today, polos are created to help golf players to perform their best and stay cool on the golf course. A modern golf polo blends various styles that were accumulated over the years.  
How To Choose The Perfect Golf Polo
If you are looking for a golf polo to rock on the golf course, you should consider the following things:
Length
Golf polos are usually made longer than regular ones to remain tucked. You may think that a golf polo looks clownishly long, but it is quite practical: a longer polo does not get dislodged during swings.
Sleeves
The sleeves of a classic golf polo should come down to the middle of the upper arm and the seam connecting the sleeves lining up with the middle of the shoulders.
Placket
The style of a golf polo depends on the placket and the number of buttons. If you prefer a more traditional style, your perfect choice will be a two-button polo with a hidden or turned-back placket.
If your goal is to look more trendy, consider a polo with three buttons and a topped-on placket.
Color and pattern
If you want to camouflage your less-than-flat abs, pick dark golf shirts with stripes. "Classic fit" or "slim fit" is great for those who want to look more athletic.
What Is The Best Material For A Golf Polo?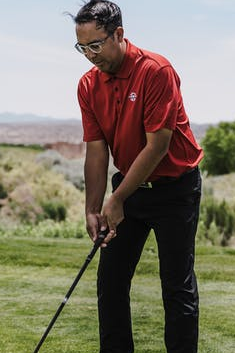 A golf polo can be made of many different materials, but any professional and experienced golf player will tell you that some materials are superior to others. Here are the most common materials to choose from:
Cotton
When it comes to golfing, cotton is a very popular choice. However, it is better to avoid a polo made entirely of cotton.
Even though it is an extremely breathable and lightweight material, it does not have moisture-wicking properties to keep sweat away from the body.
In other words, a cotton golf polo will absorb the sweat and keep it next to the body. Even though a cotton shirt looks good, wearing it while golfing on a hot day may not feel good. Therefore, it is better not to choose it for your summer golfing outfit. 
Synthetic blend
Synthetic blends, including spandex, rayon, and polyester, are known as performance fabrics for a very good reason. They are known for their moisture-wicking technology, breathability, and increased comfort.
However, it is important to understand that their moisture-wicking property is not natural, and to have this feature, they are sprayed with chemicals. Therefore, it is not recommended to wear polos made of these fabrics for too long in order to avoid a negative impact on your skin. 
Bamboo viscose
Bamboo viscose is a perfect option if you are looking for a golf shirt made of fabric with a natural moisture-wicking feature. It is breathable, has odor-blocking abilities, and contains no harsh chemicals.
In addition, it provides natural UPF 50+ sun protection. It is the premier fabric that most professional golfers prefer.
The only disadvantage of bamboo viscose is the price; golf polos are usually more expensive than shirts made of other materials. 
Difference Between A Golf Polo And Polo Shirt
They may look similar to you, but there are subtle differences to know about and keep in mind.
The first difference is the material. As mentioned above, a golf polo is usually made of cotton, synthetic fabric, or bamboo viscose. A regular polo shirt can be made of pique knit material (double layer knit), cotton, silk, and a blend of polyester and cotton. 
The collars of a regular polo shirt and golf shirt also have certain differences. The collars of golf polos are doubled seamed and designed to be worn flat and folded down.
The collar's material is usually similar to the material of the body of the polo. The collar of a polo shirt has single-stitch seams, and it is meant to be worn standing up at the back of the neck.
The breast pocket is another element that differentiates a golf polo and polo shirt. You may notice that most polo shirts do not have breast pockets at all. Even if they do have a pocket, it is usually on the right side. A typical golf polo has a breast pocket and is located on the left side. 
There is also a subtle difference in sleeve length between polo and golf shirts. Compared to classic polo shirts, the sleeves of a golf polo are usually longer.
One more difference is the fit. Polo shirts are usually more slim-fitting than golf polos, especially around the chest area. Golf polos have more space because it is more comfortable for playing golf.