Football players hold hands before games to show unity with one another. Holding hands before the game is something football teams have been doing for decades now.
Football players hold hands before the game to show unity as they get ready for the game. Players can often be seen holding hands minutes before the coin toss, right before the physical part of the game starts.
Players must brace and prepare for physical contact before the game. Holding hands is a psychological unity to stand with one another to prepare for the football game.
Holding Hands Before The Coin Toss
Football Players (mainly the captains) began holding hands as they walk toward the coin toss to show the opposing team that the captains are united. Once they get to the coin toss, they unlink hands and engage in discussion with the referee.

Meanwhile, teams will also have the players who aren't attending the coin toss stand in a straight line and hold hands.
This shows team unity, as those players stand behind their captains as they represent them for the coin toss.
It has also been used to symbolize teams to show that they are united before going to war.
Like military personnel used to line up and march before raiding an opponent, football players are locking hands with their teammates to show unity before engaging in the contact sport.
Holding Hands Before The Game
Along with holding hands, players will also link arms as they go to the coin toss.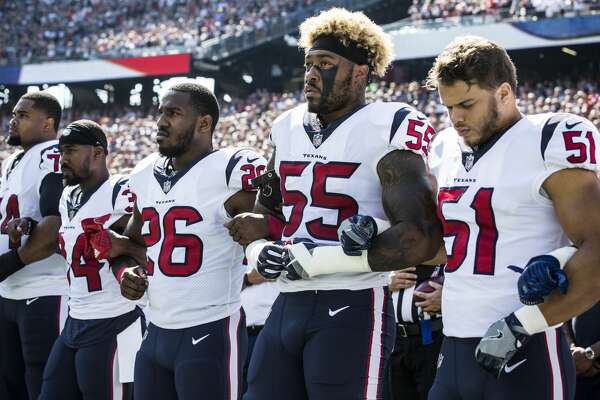 This is another form of unity and is more common among players in 2019. Like locking arms for the captains who are taking the coin toss, players standing behind the captains will often link arms before they get hyped when the captains are done taking the coin toss.
Holding Hands In Player Protests
Players are often seen linking arms due to the player protests that are currently happening in the NFL. Teams have one or more players that will take a knee and lock arms with one another.
Below is a great example of the Jacksonville Jaguars kneeling together in unity, locking arms to show support for the racial injustices in America.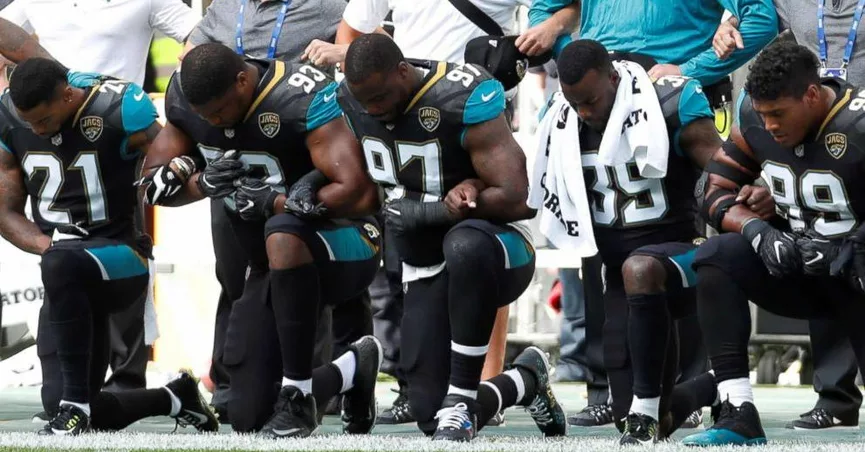 At the end of the 2019 season, we started to see both black and white players stand/kneel, together in unity, to protest together. The one thing that linked all of the players, no matter the race, was that they linked arms or hands together and supported their brother.
Although from an outsider's perspective, holding hands may not seem "tough" for a sport that is rough around the edges, it is a way that players show both a physical and emotional connection to one another before they engage in contact.
See Our Complete List Of Helpful Football Articles Here
Holding Hands During The Game
Players can often be seen on their knees or standing on their feet, holding hands or locking arms with another player during a football game.
This is often seen for moral support or good luck. The comfort of having someone else we often hope will bring good energy that the positive outcome will happen.
For instance, players will often be seen on the sidelines anxiously awaiting the kick if a player is waiting for a game-winning field goal. Once the kick has successfully gone through, they will jump to their feet in excitement, as shown in the video below.
On the other side, players can often be seen huddling with one another, praying for the kick to go in. The clip below shows another heartbreaker for the buffalo bills, which results in a missed field goal. You can see briefly the hearts torn out of Bill's players as they console one another.
Holding Hands After The Game
Football players, especially in the NFL, are often seen after the game in a circle, locking arms or holding hands. This is usually a sign of players in religious prayer. Players can be seen before and after the game praying with each other.
It's not uncommon, especially in the NFL, to have players from different teams in a circle praying together, with their hands or arms interlocked. This tradition is typically carried across high schools in America.
Football players have held hands for 50+ years before the game is kicked off and will continue to do so before and after the game.
Handshakes After The Game
Another form of holding hands is the handshake after the game. Youth and high school teams will often lineup at the 50-yard line, where they will walk by one another, shaking hands and say "good game."
This is done as a sign of sportsmanship between the two teams. No matter the outcome, it shows maturity between the players and coaches that they can line up and say good games.
In college and professional leagues, oftentimes, you'll see handshakes and hugs happen after the game, as there's much broader respect for one another at that level.
Players can often be seen swapping jerseys with one another as a sign of respect. This happens more at the professional level, as players have the freedom to talk to each other as long as they want after the game.
Conclusion
Football is often seen as a manly sport that has tough guys who only do alpha male things. However, with the added passion, and hard work that football players put in year-round, every single play means something. It can be the end of someone's career or the beginning of one.
Players will often hold hands with one another to bring good energy to one another, with hopes of preparing for battle or celebrating a win.
Holding hands is also a sign of unity between teams. Standing in solidarity will often unify a team before the game. This helps strengthen the morale as teams prepare for a physical game of football.
What are the coin toss traditions & routines that your team does? Do you lock hands or arms before the game or after the games with your teammates? If so, let us know in the comment section below the different reasons!