Basketball players can often be seen wearing two pairs of socks during a game, practice, or even a local pickup game at the park. Wearing two pairs of socks is common among basketball players of all ages.
Basketball players wear two pairs of socks to provide a maximum cushion between heel and shoe, prevent less friction, and for style purposes.
In this article, we're going to show you why basketball players two pairs of socks.
Why Wear Two Pairs Of Socks In Basketball
Wearing two pairs of socks may seem odd at first, but there are a few reasons you may want to think about doing it. Let's learn why.
Less Friction Between Sock & Shoe
Many players will have the double sock look mainly because it lessens the friction between sock and shoe.
For instance, when it's just one layer of the sock in the shoe, the foot may slide around in the shoe because there will always be a small amount of room for the foot to move.
Wearing two socks will make for a tighter fit for the shoe, causing the foot to be locked in place with the shoe.
This is always why players wear ankle braces, to limit the amount of room that the foot can move around when making cuts or crossovers.   A perfect example is what happened with Zion Williamson in the Duke Vs. UNC game.
Zion's shoe completely blew out the side, forcing him to miss the entire game. This could have happened for a few reasons:
Poorly designed shoe – This is probably not the issue, as Nike makes top quality shoes
Wrong sized shoe – If Zion's shoe was the improper size, his foot could have been sliding around in the shoe which could of cause the impact on the shoe walls.
Size and Force – Zion's sheer mass and size alone, along with the force he's putting into the side of the shoe, along with the force could have caused the shoe to blow out.
Friction between the feet can also cause blisters. If the shoes don't fit properly, the back of your heels can develop blisters that impede you from running full speed.
Comfort During The Game
The comfort of wearing two socks adds double the comfort. Especially if you're wearing Nike socks, they feel like a pillow on your feet.  
Since players will be running for 30-45 minutes consistently, having proper foot comfort is key for players to thrive, especially for the game's full length.
Sock comfort and the right fit will also help basketball players avoid blisters. Hands and feet are the two most valuable body parts a basketball must take care of. Blisters on the feet will prohibit an athlete from moving at full speed.
Schools and rec leagues don't provide socks to players as part of the uniform. It's up to the basketball player to go out and purchase socks to match the uniform.
Companies like Belisy are creating socks specifically for running and basketball, which gives the athlete the compression it needs, proper ventilation, and thick enough to fill the shoe.
The Stylish Look
The last and most important (to some of us) is the look. We want to look good when we're balling. Since the Fab 5, the mid-calf Nike socks are the prime sock to wear during a basketball game.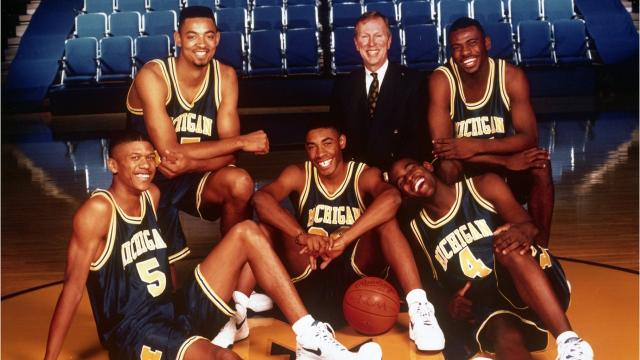 Since the fab 5 introduced the world to baggy shorts and sporting Nike primarily, the "lower half" of the basketball player is the most customized part of the body.  
Players have no choice but to wear their team's jersey and shorts, but the shoes/socks are where players can get creative and sport their own personalized look.
Double Socks For Basketball
As mentioned, players can control the socks they wear. Therefore it's in our best interest to find comfortable socks, provide less friction in the shoe, and wear the same colors as our team.
Here are our picks for the most comfortable and stylish socks that can be doubled up to reduce friction and improve style.
Nike Sock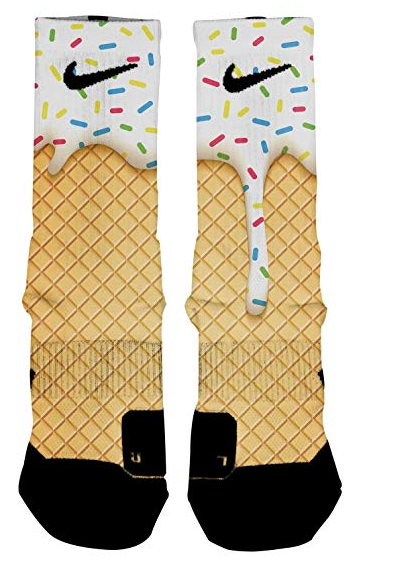 Nike socks are seen as the leader, especially in the double sock style. Players will often be seen wearing double socks that feature the Nike logo on each pair. They layer nicely and provide style for pretty much any team and any color.
Cushioning in key areas provides targeted comfort and long-lasting wear.
Cotton/Polyester/Nylon/Elastaine
Dri-FIT technology helps keep feet dry and comfortable.
Ice Cream Sock Style Sold Here
Belisy Socks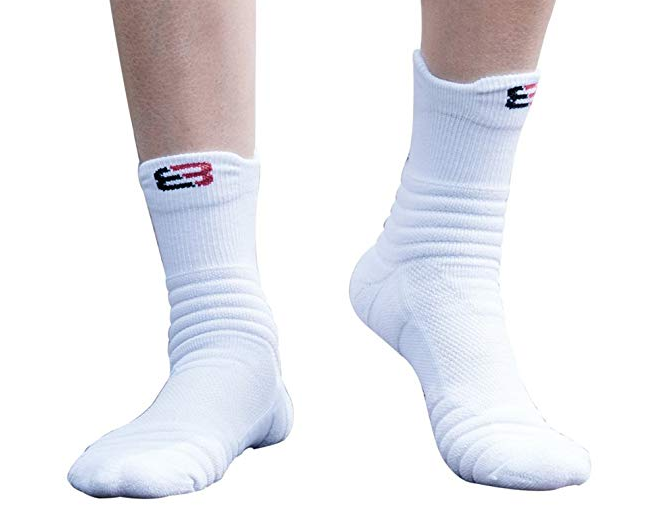 Belisy socks are great to be worn as a double sock or a solo sock. Its main goal is comfort and the ability to be worn in tough conditions.
17% nylon
A sports socks for towel sports fabrics, with breathable moisture mesh, keeping your feet refreshed.
Mid crew socks are not too thick or too thin, warm in winter and breathable in summer. Professionally customized for all sports, mainly used for basketball
Under Armour
A direct competitor of Nike, the Under Armour sock is a great sock to double up. The X layered in between two socks are a great style symbol and the well-known Under Armour comfort.
97% Polyester/3% Spandex
Moisture Transport System wicks sweat away from the body
Anti-odor technology prevents growth of odor causing microbes
Conclusion
Wearing double socks has become more of the norm in terms of style. Basketball players can often be seen wearing two pairs of socks, both on both feet. That means the player needs to put on four socks to be stylish and have the proper comfort/friction between the shoe.
We recommend checking out the socks we've listed above as they will answer all of your sock needs, and they will turn heads for sure. Nike socks are a leader in basketball style. The Nike checkmark is seen as a style symbol and can be seen in basketball courts worldwide.
What kind of basketball socks do you wear? In the comment section below, let us know what your favorite types of socks are and what types of socks you think we should add to the list of double socks.