Golf scoring can appear upside down to people new to the game. Unlike most sports where you keep trying to score more runs or points, you want the lowest score in golf. A positive score loses to a negative score at the end of a standard stroke play tournament.
Golf scoring isn't as tough as it seems, but some funny names go with each score. Different matches may use different scoring systems.
In standard play, each purposeful swing is counted as one stroke. Total strokes per hole plus penalties are totaled for the round. Plus, there are 20 instances where a penalty of at least one stroke applies.
Players with an established handicap index deduct their handicap from their total round strokes for a final score. Handicaps level the field for all players.
Let us illuminate you with some of the intricacies of golf scoring.
Detailed Golf Scoring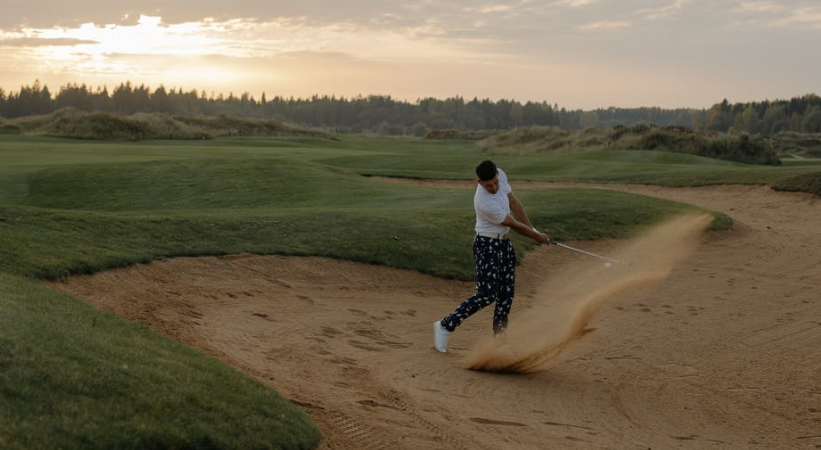 Golf isn't like baseball, where it's three strikes, and you're out. You can get many more strokes on a single hole. Even if you swing and miss, it's a stroke. Add them up. Penalty strokes in friendly foursomes are usually just a single stroke for hitting a ball out of bounds or losing a ball.
Stroke Play Scoring Example of a Par 4 hole:
Tee shot with driver to the fairway
Fairway shot with a four-iron to the edge of the green
Chip shot onto the green with a wedge
One putt to the hole
If you take just the four strokes above, you scored par.
But suppose you landed in a water hazard on the second shot, dropped your ball in front of the water, and then chipped onto the green; you take a one-stroke penalty and end with a one-over-par 5. The one-over-par is called a bogey. Two over is a double bogey.
This type of scoring is standard on most courses and with most golf groups. It's also referred to as stroke play.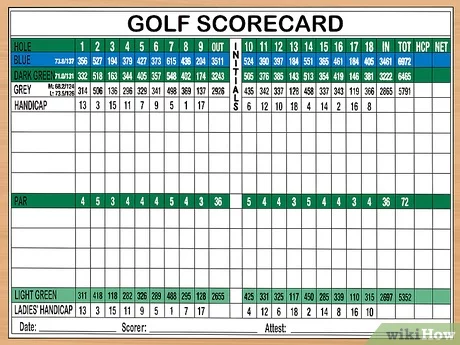 Common Scoring Terms:
Par – Using the same number of strokes as the hole is rated – check your scorecard
Birdie – Finishing a hole one-under-par
Eagle – Finishing a hole two-under-par
Double Eagle – Finishing a hole at three-under-par (also called an Albatross)
Condor – Finishing a hole at four-under-par
Even Par Round – A final round equal to the course rating
Scratch Golfer – A player who consistently plays near even par or has a handicap of zero
Bogey Golfer – A player who plays most holes at one-over or has a handicap near 18
There are other ways to keep score on the golf course, especially if you aren't using a handicap index number. Only tournaments demand you score "their" way.
Match Play Scoring
Unlike stroke play, match play is often used in team events. In match play, the player or team with the most points at the end of play wins. Play may include 18 holes or several rounds of play.
In match play, the player using the fewest strokes to finish a hole is awarded one point. Both players are awarded a half-point if they tie with their opponent.
Match Play Scoring Examples
You finish a hole in five strokes while your opponent takes six – one point
You and your opponent both take four strokes on a hole – one-half point each
Your teammate takes three strokes to your four – team score is three
Your opponents finish at four strokes to your team's three – your team receives one point
Match Play Scoring Terms
Halved Point – when a team or player splits a point with an opponent
1-up – the match went 18 holes, and the winner finished with one more hole won than their opponent.
2 and 1 – the match ended early because one player couldn't catch up or win. The first number represents how many holes ahead they were. The second number is how many holes remain. In this example, 2 and 1 mean play ended after the 17th hole.
2-up – the match went dormie (the leader leads by the same number of holes remaining) on the 17th hole, and then the leader won the 18th hole.
5 and 3 – the match went dormie with four holes to play, and the leader won the next hole and led by five with three holes remaining.
All Square – can be said anytime the scores are tied during a round
Two Up – a player or team is ahead by two holes
The play ends when a player or team can't be beaten because winning the remaining holes won't produce a win or tie for their opponent.
Holes Up Or Holes Down Scoring
Similar to match play, holes up or down is a simplified scoring system where the player with the lowest score on a hole gets the point.
If you play heads up, whoever wins the most holes, will have the highest points. If you both win nine holes, you tie. If after seven holes you've won four and lost three, you are one-up – your opponent is one down.
This scoring works for multiplayer action, with only the lowest score receiving a point; ties split a point. Or, points can be awarded by the number of players in action.
With four players, the lowest score receives four points; the next lowest receives three points, the next lowest receives two points, and the highest score gets a single point.
Ties receive total points. An example would be four points for a birdie and three points each if the remaining players all made par.